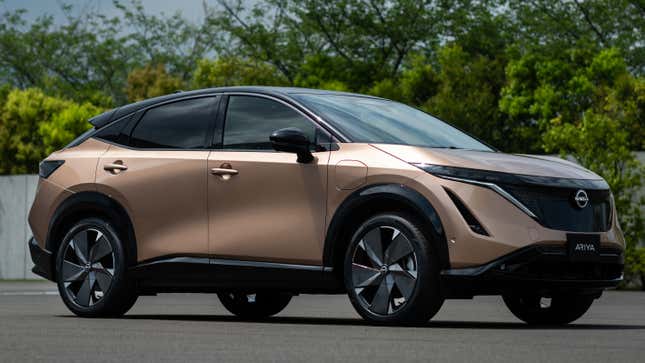 For the last decade or so many of us have been scratching our heads and wondering just what the hell Nissan was up to. The company has seemingly been slow to react to change and has very little in the way of exciting new product. On Tuesday evening, we found out exactly what Nissan has been doing, reinventing itself. In addition to a new Nissan logo, the company has transformed the vehicle behind that badge as well. The Ariya is a new direction for a company desperately in need of any kind of direction.
Taking everything that Nissan learned in the production of its Leaf electric hatchback, the company has built the kind of electric crossover that will bring the EV into a desirable form factor. It has the potential to truly transform the EV market with a great looking crossover that might actually have a reasonable price when it comes to dealerships.
Nissan's Ariya Concept unveiled last year has made the transition to production-ready without many changes at all. This is a very good thing.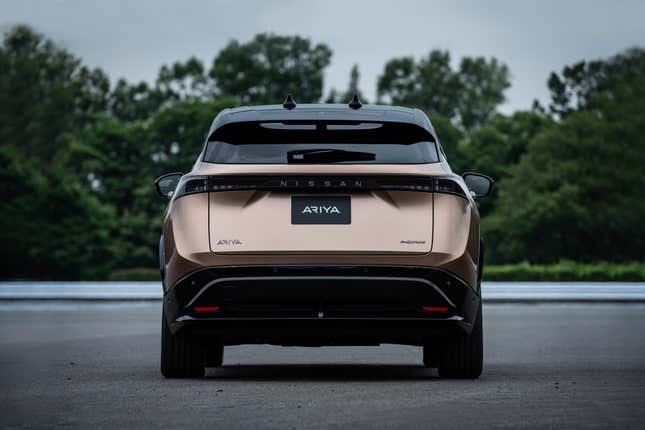 Powertrain Options
The new Ariya will be available in four different variants, a two-wheel drive model with either 63 kWh or 87 kWh long-range battery, as well as a four-wheel drive performance model with the same battery options. The long-range battery in a two-wheel drive model is expected to deliver up to 300 miles of range, while the smaller battery four-wheel drive model is the worst-range scenario with 267 miles of range.
(Correction: this article previously stated the Ariya would get up to 379 miles of range. That figure was incorrect. The predicted estimated max range will be around 300 miles.)
Even better, the new water-cooled battery control system, learning from the poor cooling characteristics of the Leaf, allows for quick 130 kW charging. This type of DC fast charger can add 233 miles of range in just 30 minutes. Stop for lunch and you've got a full battery again.
The two-wheel drive models will deliver 65 kWh of battery, while the four-wheel drive models can increase that up to 90 kWh. The AWD model with up to 290 kW of power output with the larger battery pack can shoot from 0-60 in just 5.1 seconds, which is on par with Nissan's aging 370Z sports car.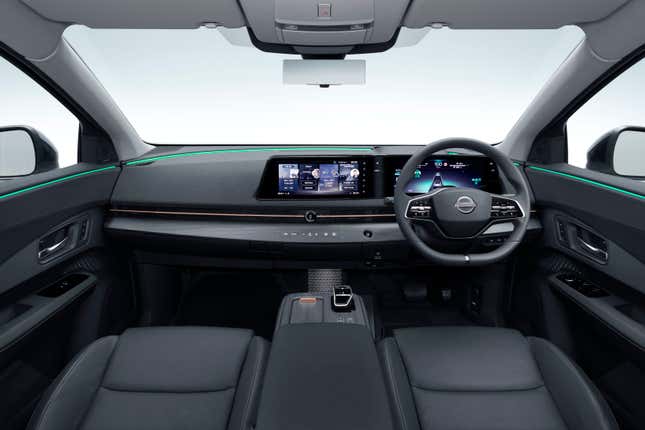 High Tech Features
The Ariya packs a big tech punch with lots of driver-assist programming in the new "ProPILOT 2.0" system. The system requires hands on the wheel to operate but will help keep the car centered in the lane, navigate stop-and-go traffic, and keep distance to the car ahead. Unlike many systems, Nissan's ProPILOT allows for single-pedal driving with the regenerative braking doing all of the work as you let off the throttle. Also unlike many radar cruise systems, the Nissan Ariya can negotiate lane changes and highway passing and exiting without further input from the driver.
This driver-assist system uses seven cameras, five millimeter-wave radars, and a dozen sonar sensors to accomplish true hands-off driving in a single lane along a predefined route. A driver monitoring system is employed during hands-off driving to make sure you're not dozing off to maintain safe driving.
While it is only available in Japan at the moment, the Ariya is equipped with Remote Park technology, allowing the driver to exit the vehicle and then park itself in a tight spot. This is not a unique system, even here in the U.S., so hopefully, the tech will come to this market sooner rather than later.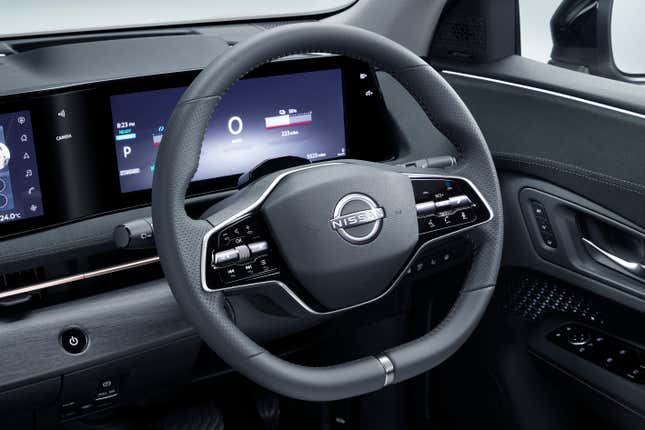 Interior Design
It is clear that Nissan is trying to develop a very clean interior space for the Ariya, reaching to multiple screens in the dash and various haptic touch buttons hidden in the dash and center console surfaces. Nissan equates this vehicle's interior to a "sleek cafe lounge on a starship" which makes me think they've been listening to Elon Musk too much.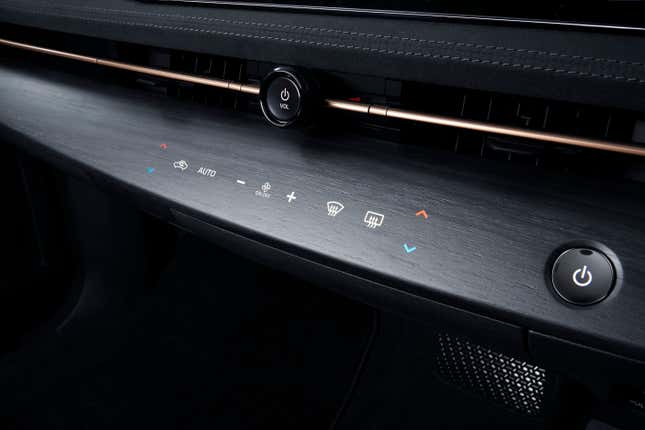 It's simple but in a very attractive way. I rather appreciate the attention to detail here, and look forward to getting in the driver's seat to test it out. Because the electric motors are compact units, and the batteries are in the floor, Nissan has moved the HVAC components out from under the dashboard and into the front trunk to help provide more interior cabin space for passengers. Smart!
I've never been a big fan of touch buttons, particularly ones hidden in textured surfaces. Unlike a regular clicky button, these will require the driver to take their eyes off the road to watch their finger touch where the response area is. It may look cool, but it's definitely a distraction.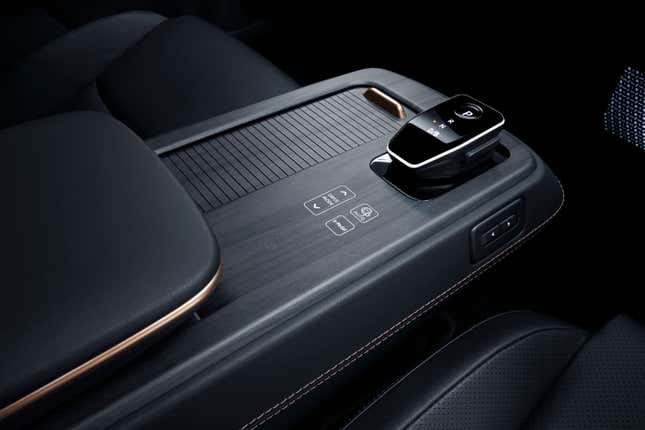 Nissan says that the flat open floorplan allows for great legroom for all passengers, especially considerate of the rear passengers as the front seats are suspended above their foot space. I've always found EVs more relaxing with a reduced NVH over ICE vehicles, but Nissan says it has put particular attention into the sound absorption of the Ariya's cabin, so it should be pretty darned quiet in there.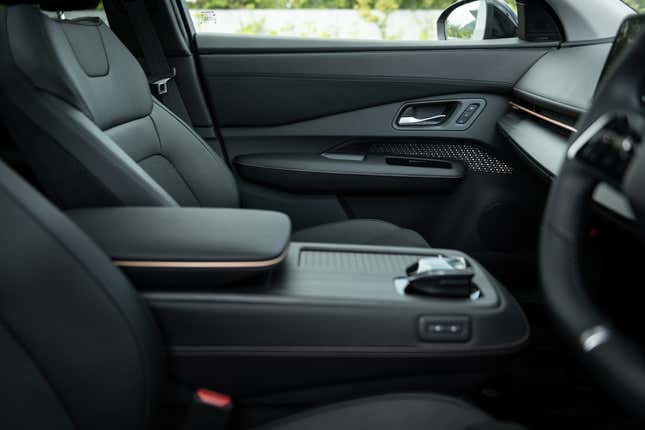 Exterior Design
The Ariya is similar in size to Nissan's Rogue, though a few inches shorter in height and length, and a few inches more in width. It looks much better to my eyes than the Rogue, however. This vehicle is instantly apparent as next-generation Nissan at a glance with a clean future style. The front faux-grille and light signature are particularly attractive, I think.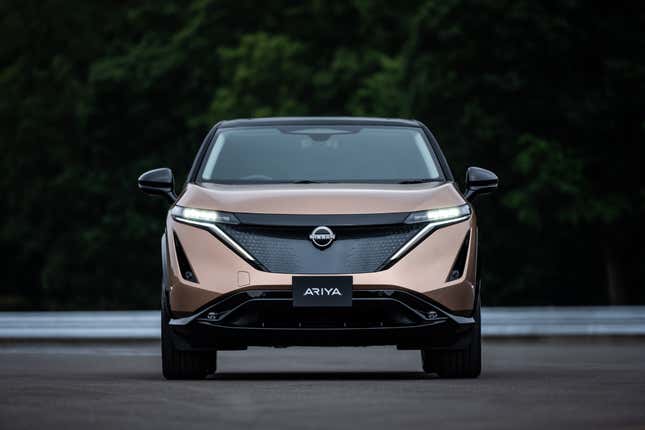 In profile, the Ariya looks like most other Nissan products, but without the obnoxiously outdated floating roof look. The Ariya has a totally blacked-out look above the beltline, giving it a lower and more aggressive front lineman stance. Face down, ass up.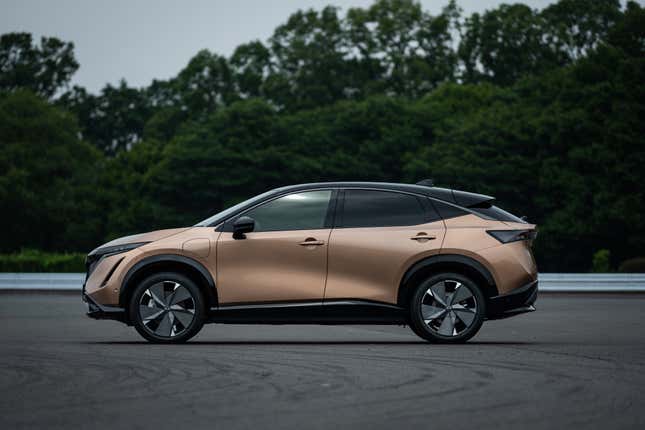 The wheels. Good lord the wheels are bad. I've never been partial to a directional wheel design, and this one is a particularly bad example of that trend. I understand the need for wheels to be aerodynamic and slice through the air, particularly in an electric car, but can't they find a more attractive way to manage this? Thus far we've only seen the one wheel design, and Nissan says it will offer a 19-inch as standard and an optional 20" wheel, so hopefully, the other one is better.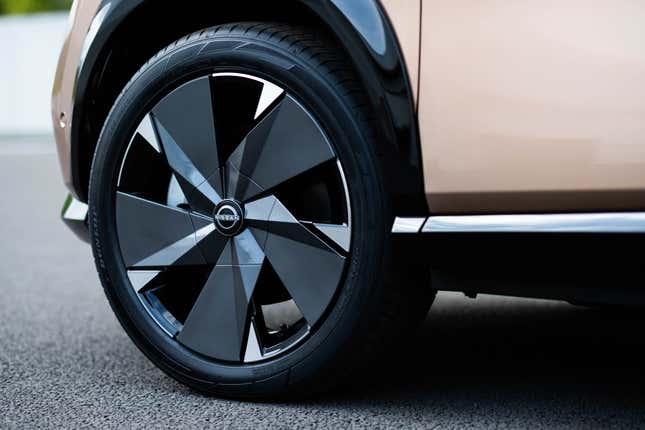 The back, I'll be honest, is kinda meh. But it looks like it'll hold a bunch of shit. Which is good. Fold those seats down and have a good time.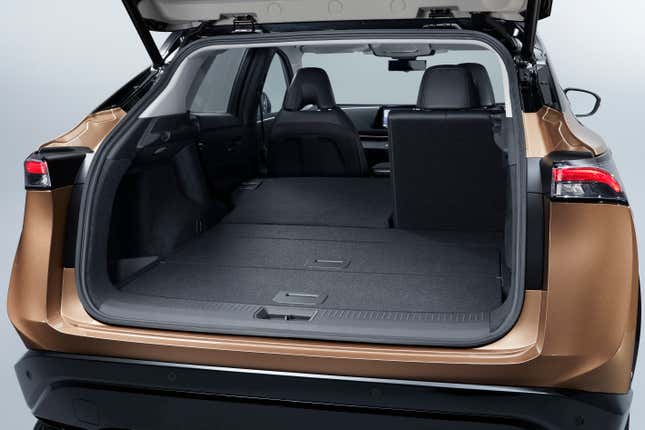 I am about as vehemently opposed to crossovers as any human can be, but I might be won over by this thing here.
The base model Ariya will begin delivery in mid-2021, starting in Japan and spreading throughout the world. It will launch with a price around 5 million yen, which translates to around $46,605. It's likely that the car will start slightly lower here in the U.S. market. Even at that price, it compares pretty favorably to Tesla's Model Y, which starts at $49,990.