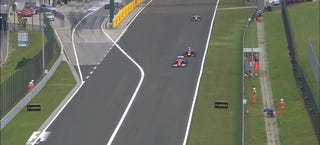 The FIA had to nominate just one moment from this year's F1 season for their Action of the Year vote, and it's no surprise they chose an overtake from Daniel Ricciardo. There's something interesting about the particular pass they picked, though.
Red Bull's rookie has pulled off some of the best passes in Formula 1 this year. There was the time he sold the dummy at 200 mph on his four-times world champion teammate. There was the time he outbraked two-times world champion Fernando Alonso from 217 mph.
The FIA did not pick either of these highlight-reel moves. They, rather the picked a rather straightforward DRS pass from the Hungarian Grand Prix, again of Ricciardo on Alonso. Maybe they picked it for the Aussie fatso's radio message after the fact?
"That's how it's done, ladies."