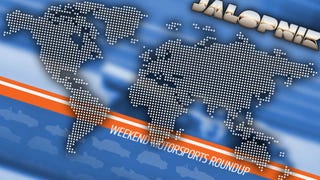 Welcome to the Jalopnik Weekend Motorsports Roundup, where we let you know what's going on in the world of racing, where you can see it, and where you can talk about it all in one convenient place. Where else would you want to spend your weekend?
I know you've been spoiled over the past few weeks, what with all the IndyCar and BTCC and Australian V8 Supercars and whatnot, but it's time to turn back to reality.
No, not the winter doldrums that threaten life itself with their complete lack of fast competition, but more like the early spring doldrums, when the only thing to tide you over on a weekend is nothing but the sweet, sweet solace, of a NASCAR Sprint Cup race and a Formula One race.
Alright, so nothing is as bad as late December, and NASCAR and F1 aren't so bad in combo. In fact, they're pretty great. And there are a few big questions going into the major races already:
1 ) What team will win the F1 race?
2) Which driver will win the F1 race?
And
3) Which driver will crash into Parker Kligerman?
(The answer to that last one is hopefully nobody, for the love of all that is holy, please stop crashing into him, dude just wants to race.)
But seriously, even a "slow" weekend in April has some pretty great racing.
I know this isn't the only racing in the world this weekend. Surely someone's got a window into Rally Portugal out there, and there's got to be something on the Nurburgring.
If you know about anything we missed, or about good livestreams out there, let us know in the comments.
NASCAR Sprint Cup Duck Commander 500 Final Practice
Texas Motor Speedway
Fort Worth, Texas
10:30 AM Saturday on FS1
Formula One Bahrain Grand Prix Qualifying
Bahrain International Circuit
Sakhir, Bahrain
11 AM Saturday on CNBC (replay at 12:30 PM Saturday on NBCSN)
NASCAR Sprint Cup Duck Commander 500 Qualifying
Texas Motor Speedway
Fort Worth, Texas
3 PM Saturday on FS2
AMA Supercross Houston
Reliant Stadium
Houston, Texas
8:30 PM Saturday on FS1
Formula One Bahrain Grand Prix
Bahrain International Circuit
Sakhir, Bahrain
10:30 AM Sunday on NBCSN
NASCAR Sprint Cup Duck Commander 500
Texas Motor Speedway
Fort Worth, Texas
2:30 PM Sunday on FOX