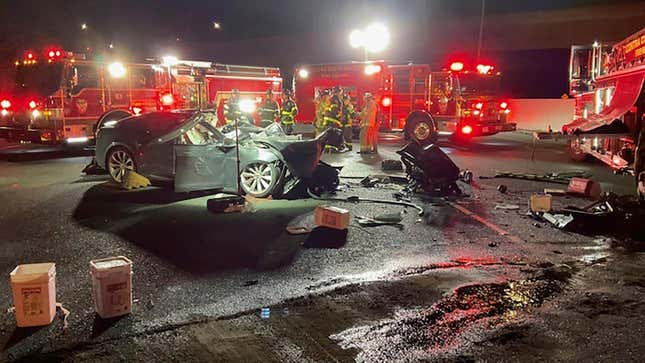 Tesla has reportedly told U.S. regulators that a fatal crash involving a Model S earlier this year involved its automated driver-assist systems. According to Bloomberg, that's the 17th fatal Tesla crash while the systems were engaged since June 2021. The number would likely be higher, save for the fact that the government didn't require automakers to submit data on these accidents until then.
In case you missed it:
We previously reported that a 2014 Tesla Model S crashed into the back of a firetruck in the early morning hours of February 18, 2023 on I-680 in Northern California. The firetruck had to be towed away from the scene, and the Tesla had to be cut open using a Jaws of Life to remove the injured passenger. Unfortunately, the driver was declared dead at the scene. Four Contra Costa County firefighters also sustained minor injuries in the crash.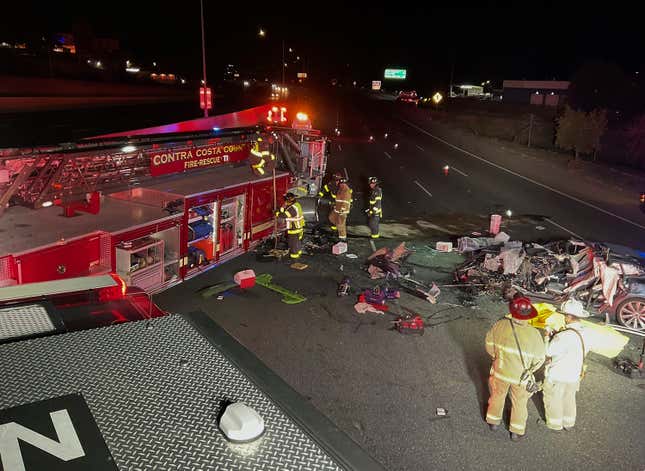 Bloomberg reports that this crash was just one of 66 reported accidents that were included in the latest public release of data collected by the National Highway Traffic Safety Administration in regard to Level 2 automated driving systems. It's unclear how many of those 66 involved Tesla vehicles.
NHTSA is doing a handful of probes into Tesla's much-beleaguered driver assistance programs, Full-Self Driving beta and Autopilot. Bloomberg reports that the organization has asked CEO Elon Musk about tweets he made saying that FSDb could be upgraded with a way to disable an alert when drivers take their hands off the wheel.
NHTSA is also asking for more information from Tesla on how its program handles crash scenes on the side of the road. The devastating accident with a fire truck is unfortunately not a one-off situation.
The agency was also part of a recall that impacted all 363,000 Teslas equipped with FSDb because of how unsafe they would drive. NHTSA says Tesla using the system would routinely blast through stop signs, continue straight through turn-only lanes and drive through intersections with yellow traffic signals without due caution. It says that the program may allow Teslas to act "in an unlawful or unpredictable manner," which could increase the risk of a crash.