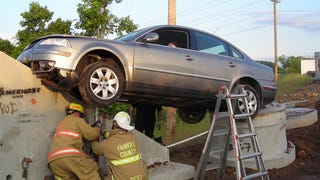 We've been making "that'll buff right out" jokes almost as long as this site has existed, which is why we're now pleased to finally see an entire site devoted to the meme. Our twelve favorite TBRO's below.
The best intentions of mice and modders often go awry. We follow up our last iteration of There, I Fixed It with a look through ten Jalopnik readers' best worst car mods.
Since Version 1.0 and Version 2.0 of "You're Doing It Wrong" went over so well, and because Wert's out this afternoon, we decided it's high time to bring you Version 3.0!
We've covered both FAIL and "You're Doing It Wrong," and we saw they were good. What's better? More. Join us in watching people doing it wrong from every corner of the globe below.
Now that everyone is familiar with the glorious art of automotive FAIL, it's time to introduce FAIL's kissing cousin to the automotive world: The "You're doing it wrong" internet meme. Let the good times roll below the jump.