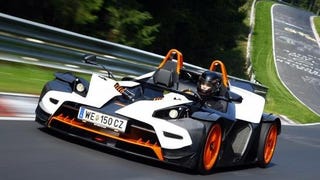 The beloved but occasionally unsold superlight KTM X-Bow's returning in 2011 with an even more potent 300-hp XBOW R version. Wait, does that make it the Jack X-Bauer?
With 80 unsold units in stock and only 420 of the once-expected 1,000 units being produced, KTM's announced plans to halt production of the X-bow superlight sports car, at least temporarily. The Carpocalypse claims another victim. [Autoblog.nl via GTSpirit]
As if the X-BOW needed more of an advantage, KTM is now offering full factory support and a two year warranty on ABT Sportline's aftermarket performance upgrade, with a total output of 300 horsepower.
The rear-engined, 240 HP, 1,700 Lbs KTM X-Bow is one of the fastest ways to lap a racetrack. But with no ABS, traction control or even a windscreen, how does it handle...in the snow?
The KTM X-Bow is just beginning to reach customers in Europe and, predictably, one of the first has already gone and crashed it. According to The Sun, the driver "skidded on two wheels" before mounting a crash barrier at the Nurburgring. Well, if you're going to total your $70,000, 237 HP Austrian trackday special, we…
Looks like the crotch-rocketing folks from KTM are serious about making the X-Bow track monster revealed in Geneva this year totally track-ready. One of Brenda Priddy's cadre of car spies caught this particular motor bike car at speed undergoing handling tests on the Nürburgring earlier today. The basic version of…
If you were wondering what KTM's new X-Bow (crossbow) roadster looks like on the track, check out this clip from a recent profile on German TV. While the driver is a sad facsimile of the black Stig, the X-Bow nonetheless looks like its just begging for an airstrip and a Northern European guy named Getthef k Outtadawei…
Hey, kids, it's the KTM X-Bow. Let's go say hi. Sure, the little roadster is just as we pictured it. Compact, busy, and with just enough amusement-park frivolousness to make us wish we were either eight years old or luxuriating in an fortune derived from someone else's sweat. (Both wouldn't be bad.) KTM says it's…
KTM's released a new set of X-Bow concept shots ahead of its unveiling next month at the Geneva show. It's not exactly the concept we'll see; the subject is really a 1:25 scale aerodynamics tester. Nonetheless, the details remain the same: 1,500 pounds, VW/Audi 2.0 TFSI engine producing around 200 hp and around…
Evo stopped by KTM's lair in Austria and got a look at three prototypes of the company's X-Bow track-day ride. Of the three, one's for crash testing, the other for chassis tuning and the third is for show; that's the one shipping off to Geneva in late February. The first production models should hit in mid-2007, and a…
Look in your rearview Ariel Atom, KTM's nearly done with its pure-sports concept, which the Austrian motorcycle concern will show off in Geneva next March. It's called the the X-Bow, and it'll be powered by an Audi-sourced engine of some displacement and weigh slightly over 1,500 pounds. Price is expected to be in the…