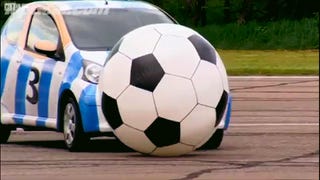 According to my Facebook feed, something called the World Cup is currently taking place. While I'm following it even less than I follow other ball-based sports, even I realize it's kind of a big deal — because it's a great occasion to revisit one of Top Gear's greatest hits.
Team USA just played one hell of a match against Ghana in the World Cup. So Delta Airlines paid homage to these wonderful athletes with a Statue of Liberty and a giraffe.
Had you heard about the absolute disaster that revolved around the 2010 Adidas Jabulani soccer ball, used in that year's World Cup? Yeah, me either. But professionals used words like terrible, disaster, and catastrophe to describe its performance. How has Adidas changed the ball for this year's Cup?
In anticipation of the World Cup soccer tournament this summer, Brazil has announced that it will enforce no-fly zones within a 4 nautical mile radius of the twelve Cup stadiums. As the law currently stands, unresponsive planes cannot be shot down over populated areas, but the Brazilian Air Force is hoping to change…

We remember when the World Cup came to the motor city back in 1994 — we saw the first-ever indoor World Cup game at the soon-to-be demolished Pontiac Silverdome. It was an epic struggle between two powerhouses — the US and Switzerland — and by powerhouses we mean both teams bumbled to a tie. The best part was how…

It seems soccer players are like most guys, they're either playing with balls or they're off playing with their cars. Sometimes they do both at once. Here's a little photo montage of 16 World Cup soccer (futbol) players and the cars they love to drive. We figure if you're watching soccer, you might as well have…