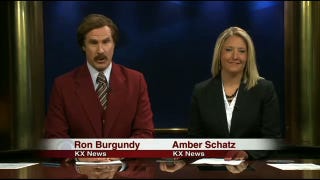 There's a new Anchorman movie coming out, which means Will Ferrell is making the rounds in character—ranging from Dodge ads to Canadian curling coverage. Tonight, he dropped by the studios of KXMB in Bismarck, North Dakota to co-anchor the CBS affiliate's broadcast following the Alabama-Auburn game. Here are some of…
All these years, I've been pronouncing "Dodge" with a hard D sound. But thanks to Ron Burgundy, America's greatest newsman, I now know it's pronounced with a soft D, like the soft J in jogging, or as Ron calls it, yog-ging. Thanks Ron!
When Chrysler teased four ads with Ron Burgundy hawking the Dodge Durango last week, we thought that it would be one or two quick ads. We were wrong. Really wrong. They're doing 70 of them and, so far, they're brilliant.