South African authorities arrested, tried and sentenced a suspect Friday in Uwe Gemballa's murder. [TimesLive]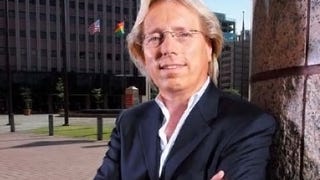 Uwe Gemballa — who ran a company featuring Porsche upgrades and disappeared soon after arriving in South Africa five months ago — has been found dead, shot execution-style in the head.
Porsche tuner Uwe Gemballa's tuning shop closed last week after 30 years of business following his mysterious disappearance in South Africa. Now friends say Gemballa may have "chose to disappear" after an argument with his wife.
On today's episode of "Where In The World Are Uwe Gemballa?" everyone's favorite missing German tuner is on the run in Luanda, Angola. Plus, a special guest appearance by Czech fugitive billionaire Radovan Krejcir! Cue Rockapella.
Missing German Porsche tuner Uwe Gemballa is now under investigation by authorities in Stuttgart on suspicion of financial impropriety. Also, his family's suspended the reward for information regarding his whereabouts. Both revelations will turbocharge rumors he's not a kidnapping victim.
German Porsche tuner Uwe Gemballa disappeared last week, and his whereabouts are still unknown. The exotic-car world is in an uproar — kidnapping! aliens! Butzi! — but we keep returning to one question: Why don't we know anything about him?
There's new evidence this morning German Porsche tuner Uwe Gemballa may have staged his disappearance. A representative confirms Uwe Gemballa's wife filed for insolvency on behalf of her husband's tuning company, Gemballa Automobiltechnik GmbH & Company. Das is nicht gut!
The search for exotic-car tuner Uwe Gemballa continues: German state police recently sent officers to South Africa and classified this as a "missing person" case. Where did you go, Uwe?