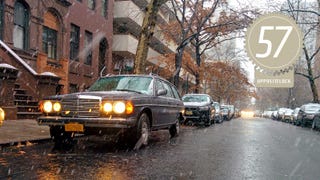 The discerning buyer who needs to fit many dogs in the back and four people up front in the lap of, mid-range, luxury. That is who buys a Mercedes 300 wagon. Fitted with a turbo and adorned with the finest vinyl to keep the backs of the occupants firmly adhered to the MB-Tex as to avoid falling out of the seat.…
"Looking to sell my Caledonia Green 1977 Mercedes-Benz 240D. A/C Blows ice cold, 30mpg, runs and drives great! Nice interior, power everything (including sunroof!), new windshield, too much to list! Classic example of a W123 car. 4spd Manual Transmission - and RARE Bosch European spec headlamps which take modern…
This Mercedes was just featured on BaT and is currently for sale on ebay for 12 grand. While I think the price is way too high for a car with tacky wheels, ugly bumpers and a 4 speed slushbox, the idea is as awesome as it gets.
Remember our welcome post from Geneva last Monday? Two Bugatti Veyrons and a Ferrari FF were in front of that hotel. Not bad, but no real story there. We're more interested in this Mercedes we walked by every day during the show. It's French, it's got a kitten and a two-tone paint job, and it's pure awesome.
The German word for muscle is muskel which is also coincidentally how Popeye pronounces it. Applied automotively, that would make today's Nice Price or Crack Pipe 5.0-powered MB 280CE a muskelwagen, but is its price enough to make your eyes pop?
Thanks to feature bloat and nanny state safety regulations, cars continue to expand as fast as American waistlines. Still don't believe us? Look at this seven-generation Mercedes E-Class family picture. My, what a fat ass you have, W211. [via Blaaargh]
We've seen quite a few varieties of Mercedes-Benz on the LeMons circuit, and it probably isn't fair to lump a 300D in with a 190E, but that's the only way we can include the Benzes in this analysis. Overall, Mercedes-Benz LeMons cars have done pretty well, though the small number of middle-third cars indicates that…
Do you like fried food and German cars? Need something that will see you through society's collapse? Well, Nice Price or Crack Pipe has a Mercedes diesel that will get you through the economic downturn smelling like Micky-Dees.
Schm writes in to inform us of a wrecking yard in Falmouth, Kentucky, that appears to be in weeks away from sending between 800 and 1,000 older Mercedes-Benzes to The Crusher. A new owner is taking over, and she's not interested in keeping these cars, which go back to the 1950s or maybe even earlier. The guys on …
We've seen some 24 Hours of LeMons People's Curses that destroy cars with extreme prejudice (say, the Salazar Racing BMW, or the Mazdasaurus Wrecks), but this time things went a bit differently. A sloth-like Benz diesel clogged up the track all day yesterday and the voice of the mob- no doubt channeling their…
Welcome to Down On The Street, where we admire old vehicles found parked on the streets of the Island That Rust Forgot: Alameda, California. Today's car is one I see frequently, and I've spent months wrestling with an internal debate over its eligibility for this series; sure, it's a quarter-century old and a…