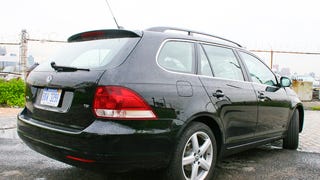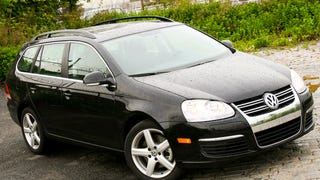 Yesterday we reveled in the frugal performance of the VW Jetta Sportwagen TDI's diesel engine, but bemoaned the awful DSG gearbox. Join us today as we examine the Jetta's abilities in detail.
Conventional car enthusiast wisdom states the VW Jetta TDI is the thinking man's fuel-efficient car. Free of the complication, sacrificed driving dynamics and image of hybrids, it makes do with diesel instead.
Volkswagen's 2009 Jetta TDI twins are now available in all 50 states, a first for clean diesel vehicles in the U.S. In theory, for just $21,990 you can be the proud owner of a TDI sedan that gets an EPA estimated 29/40 mpg (or 38/44 mpg according to another group). Buy one now and the federal government will knock…
Now that we've proudly provided you with our review of the 2009 Volkswagen Jetta SportWagen, we now just as proudly present the following Jalopnik original production: Wheels of Desire, der film.
Why you should buy the 2009 Jetta SportWagen: You want a Euro wagon and don't have the stash for an Audi S4 Avant or the desire to stuff your friends in an A3. The question of how you're going to get all of this stuff back to your loft from Trader Joe's is a common one. Subaru? Nothanku. You are a keeper of the…
Exterior Design:**
The lines that we like on the Golf GTI somehow fall short with the 2009 Volkswagen Jetta SportWagen. The taillight assembly looks like it was tacked on to the design at the last minute and the grille looks more like the work of an overzealous orthodontist than what we picture when we think of VW.…
The affluent neighborhood of Glencoe, Illinois is home to a curving street of Frank Lloyd Wright-designed houses reached by a single-access bridge also designed by Wright. The black 2009 Volkswagen Jetta SportWagen parked on said bridge couldn't be more incongruous to the surrounding Prairie School architecture, which…