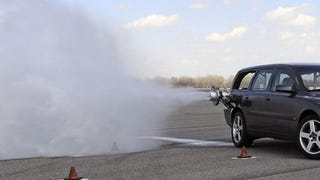 Spending the day at Ford's Product Development Center learning about the latest efforts in safety sounds boring, right? Normally, yes, but it's amazing how strapping yourself into a 50MPH water cannon-powered Volvo makes anything entertaining.
Ford engineers have rigged a giant water cannon to a Volvo V70R to test effects of a side-impact crash without the crash. Better news? Ben's trying out this Carpocalypse-level technology as we speak. More below.
Whether an engine or a steering wheel, parts-sharing is an easy way for manufacturers to save money. Still, many car owners may be surprised by what parts get shared. Here's 12 unlikely examples.
Volvo announced this week that they are going to start production of a version of their V70 wagon pre-fitted for service in the British Police Force. The company claims the "turn-key" police car will be the first offered, at least in Britain. Typically, police vehicles must be custom painted and outfitted before…
If there is one thing that really grinds my gears, it's when an inanimate object judges me and makes assumptions about my lifestyle. A new safety feature to be included in the 2008 Volvo V70, XC70 and S80 will flash a coffee mug in the middle of the tachometer when it senses your driving is impaired. Despite…
Forbes Autos is up to the list-making again, giving us the top ten list of luxe cars with the primary driver being a woman. While not as sexy as the men's list, the vehicles are more practical and comfortable, and packed with a lot more Volvos. Interesting to note that our favorite Saturn designer, Miss Vicki Vlachakis