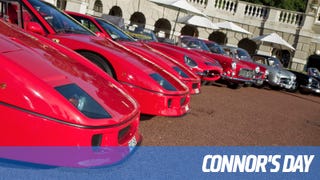 The video of Ken Block tearing up San Francisco in an insane Ford Fiesta — better known as Gymkhana 5 — was a creative success for a brand that's constantly having to one-up its own crazy adventures. We can now report it was a viral marketing success as well, with approximately 5.1 million views in just 24 hours.
Not everyone is great at math. But this woman trying to explain how many miles you can travel in an hour when driving 80 MPH takes math skills to a new low. Since it's a little sad, it has, predictably, blown up on Facebook overnight. But the mathematically-challenged passenger is not actually the one who sucks…
Watch this amazing video of an Audi crashing just feet from a guy taking a leak by the side of the road. If the video's real, it's going more viral than herpes at a fraternity party. (H/t to AsianMartin!)
The General's engaged in some lame viral marketing in the past — like when they tried to pretend cars and trucks were flying because of some silly warranty or something. Everyone knows that the cars were flying because of the secret alien-derived technology they and the feds have jointly developed out in the desert…
One look at that outsized hood scoop and sparsely clad hoochie tomato and you know what's coming? Or do you really?
Carscoop brings us this clip, indicating what happens when steroid rage meets law enforcement. A bicyclist on an interstate highway outruns police in a typical chase video shot from a helicopter. Undoubtably a viral video with some arcane commercial purpose, this one's clever enough to pass along. Aaaa, choo!