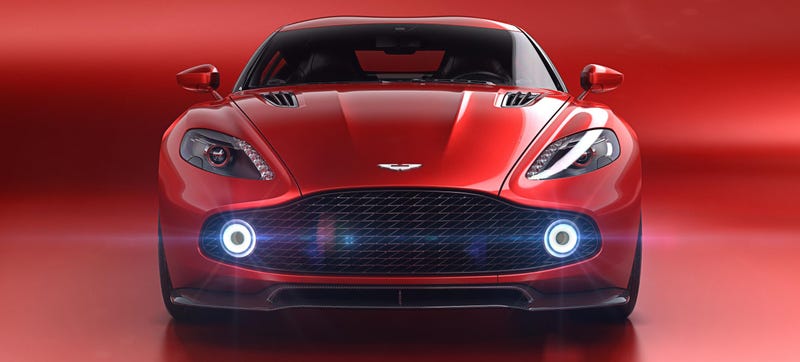 The Aston Martin Vanquish is a sleek, V12-powered grand tourer wrapped in carbon fiber bodywork. But that wasn't enough for famously weird coachbuilder Zagato, which transformed the car into the Aston Martin Zagato Vanquish, a sleek, V12-powered grand tourer wrapped in carbon fiber bodywork.

Right now, Scuderia Cameron Glickenhaus is making history (again) by driving the SCG 003C that finished the N24 on Sunday to Lake Como on public roads, to be displayed at Villa d'Este this weekend. That has never been done before.
The Zagato Mostro is using a Maserati V8, so expect it to have up to 460 hp like the GranTurismo MC Stradale. The Milanese coachbuilder is expected to produce no more than ten units after its Villa d'Este premier.
It's a strange quirk of history that Hans Glas and his car company are much better known for their tiny Goggomobils than they are for their Italian-styled coupes. Maybe it's time to change that.
Prior to the Concorso d'Eleganza at Villa d'Este this weekend, BMW revealed something called the 328 Hommage which, like the M1 Hommage from a couple years back, is a retro-futuristic look at BMW's storied history. (UPDATE: Now with official press photos.)
Things you could do 50 years ago: smoke everywhere, drink at work, get elected as a Democrat in the South, and buy a new Aston Martin DB4 GT Zagato. In honor of at least one of those things, Aston Martin's paired with design house Zagato to once again build an obnoxiously expensive and lusty race car.
This one-off Alfa Romeo TZ3 was purpose-built by Zagato as a gentleman's racer. The rakish kamback profile is based on classic Alfa racers, but performance is totally modern thanks to its weight: just 1,870 lb.
The Alfa Romeo TZ3 is a purpose-built race car from the Zagato design house created to celebrate 100 years of Alfas. The sexy aluminum body covers a tubular carbon fiber chassis and an undisclosed powertrain.
The BMW 328 Kamm Coupé will be reintroduced to the world after 40 years in bits and pieces at this months Concorso d'Eleganza Villa d'Este to celebrate BMW's 1940 Mille Miglia win. There's also supposedly a new retro-themed concept too.
Now that Google Street View is trickling down the European highway system, it's time to go on the prowl for fancy cars.
Remember the BMW M1 from the late 70's and early 80's? Sure, we all do — how could someone forget the only BMW mid-engined homologated racer? Well, for you fans of that MotorWorken hotness, we've got an exciting bit of news out of the Concorso d'Eleganza at Villa d'Este, an Italian gathering hosting precious metal…

Well, we don't want to be those guys who just drop the money shot and leave — so we won't. Instead, here's a tease of the wrap-up of the 2006 Villa d'Este Concorso d'Eleganza provided by our good friends at SUPERCARS.NET. Feel free to check out our little booty-shake and then head on over to SUPERCARS.NET for the…

Ferrari's taking the wayback machine to 1956, producing an abso-fab spectacta-car celebrating the 50th anniversary of the famous 250 GTZ berlinetta. The aluminum body, meant to fit atop the already insta-classic 575, sports a two-tone paintwork with styling cues that would make it's poppa proud. Our friends at…