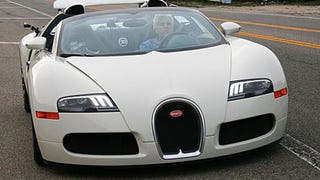 NBC pulled Conan O'Brien's devious Bugatti Veyron Mouse sketch from last night's "full episode" replay of the Tonight Show on NBC.com and Hulu — apparently unwilling to pay royalties for Conan's "crazy expensive" car-starring sketch. Video evidence below.
Bugatti only built and delivered a couple hundred $1.5 million-and-up Veyrons and there's only a handful in California. So when Conan O'Brien trotted out the Bugatti Veyron Mouse on last night's Tonight Show, we wondered: where'd he get it? UPDATED!
Conan O'Brien introduced the Bugatti Veyron Mouse as a new Tonight Show character Thursday night, not because it was funny, but because it was "crazy expensive" for NBC. To be funny he'd have to crash it into a lake. UPDATED!