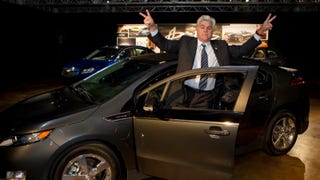 Jalopnik super friend Brett Berk recently penned a wisecracking story comparing ten well-known cars to "adorable" animals. The Lincoln MKS made the list, although we're not quite sure how walruses are adorable. [Vanity Fair]
The Mercedes-Benz Classic Center is one of the finest restoration facilities in the world. Vanity Fair's Brett Berk recently stopped by to drive a vintage Gullwing, giving Jalopnik this exclusive behind-the-scenes peek. —Ed.
Lexus, Mercedes, Rolls–Royce, whoever else is in the luxury business these days: take note of this Duesenberg ad from the June 1935 issue of Vanity Fair.
We're really starting to like Stick Shift, Vanity Fair's weekly gay car blog. It explains to us the intricacies and variations of the gay psyche in a language we can understand: cars. Take, for instance, that really nice middle-aged guy who runs the local antiques shop. He's always inviting you and your teenage…
New to the annals of automotive blogging comes "Stick Shift," a weekly column at Vanity Fair's online world dedicated to the unique needs of gay car enthusiasts. Lest you think the subject matter will consist solely of New Beetles and Miatas, writer Brett Berk assures us he's a genuine Motor City native intent on…