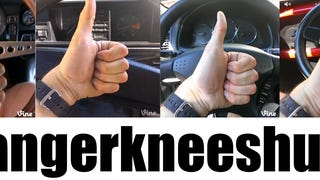 Yesterday, I decided to run Patrick George's ignition knee test with the cars at the house.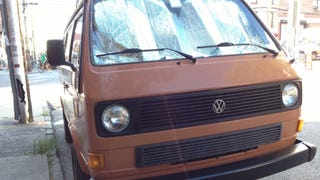 Welcome to Little Car in the Big City, where I highlight fascinating cars I found walking around a town that is known for being bigger than everything else, but where every car is fighting to stand out: New York, New York.
Just when we thought we had seen all the world of car fires had to offer, a 1987 Volkswagen Vanagon manages to surprise us. The van performed the seemingly impossible this past week when it drove itself uphill into a nearby condo after setting itself ablaze.
Are you looking for a home away from home? Well then, Nice Price or Crack Pipe has a VW that will make you one happy camper.
UK-based JustKampers.com teamed up with habitual car midgetizer Andy Saunders to build the worlds shortest VW Bus at Bug Jam '08, a celebration of all things people's car. The build and event took place last week, with a live audience watching the transformation from a standard issue T25 bus to a chopped, sectioned,…
Since everyone has been so enthusiastic about the Algae-Veggie Van I thought I'd follow up with some bits that didn't make it into the original feature article, specifically a Q&A I did with teacher David Levine, who originally came up with the idea to do this with project his students. He's one of the incredibly…
It was when the oil light came on that I started to run through the appropriate next steps in my head...and realized that there aren't any appropriate next steps when warning lights start going off in a 1982 VW Vanagon camper. Particularly one converted to run on a mixture of vegetable oil and algae biodiesel grown…
When you come upon a seemingly endless line of air-cooled VW Type 2s grinding up a tough grade, the good news is that you'll probably be able to pass them all in just about any motor vehicle. Why, even the new water-cooled '84 Volkswagen Transporter- loaded with seven passengers, no less- can do the job (if you're…
Say you were a Berkeley radical back in 1968- you know, high ideals, willing to lay down your life for The Cause, etc. Then, well, you got taken up on that high mountain and shown the fleshly kingdoms that lay before you, simply for the price of your soul. That's what happened with Jerry, an ex-radical who struck it…
When I was about 10-years-old I went camping at Pismo Beach in a Volkswagen Vanagan Syncro Westphalia. My friend's father was an editor at Trailer Life magazine and VW had given him a 4x4 van to play with. For those who have never been, you're allowed to drive cars on the beach at Pismo. I'll never forget taking the…
This piece of Caminofied magnificience can be yours for only 200 bucks! Think of the possibilities: install a kegerator and a generator, throw a couple of surfboards in the back, find a girl in a skimpy gingham outfit and you're ready for an all-night beach party! Or take your band on tour, pull up outside venues…