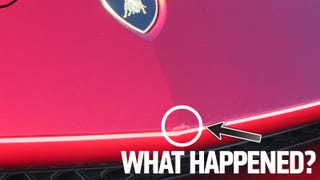 The Lamborghini Urus SUV Concept made its debut earlier this year in Shanghai and is still making the rounds on the auto show circuit. This weekend, the car was in Monterey, California for The Quail and on the concept lawn at Pebble.
We already know that Lamborghini is making an SUV, we think it'll be called the Urus, and now Evo Magazine has what looks like the first picture and spec details of the Raging Bull's new cash cow.
This invitation to the unveiling at the upcoming Beijing Motor Show provides definitive proof that the much-discussed Lamborghini SUV — possibly named Lamborghini Urus — is really happening.
We know the now-confirmed Lamborghini SUV will premiere at this year's Beijing Motor Show, but the Chinese media is slapping down a few interesting details including the possible name: Urus. You know, as in the mother of bulls.
The long unveil process is finally over, and here's the four-door Lamborghini Estoque Concept, live and in the flesh. We'd love to tell you more about Lambo's second ever four-door, and their first ever "four-door sports car" but since they haven't even made up their minds about which engine it'll have (anything from…
Here we are, the day before the big 2008 Paris Motor Show (well, the night for some of us) and the Lamborghini Estoque Concept can't seem to keep itself covered up. First we got leaked images a bit earlier today, and now, full high-resolution shots straight from Lamborghini, along with a full press release. In more…
Official images of the Lamborghini Estoque four-door have hit the web like a fat cow, in advance of the big Paris Motor Show reveal. These shots appear to show a front-engined four-door with recognizable Lamborghini cues up front, blending into a sharp sedan and finishing into a rear that's almost Camaro-esque.…
Seems the trademark claim Lamborghini placed on the name "Urus" may have been a red herring and the real name of the four-door super saloon set to debut at the Paris Motor Show may be the Lamborghini Estoque. What's an Estoque? It's the small sword used in the killing stroke of a true bullfight — a far more fitting…
Jalopnik reader Kooper is just as sick of the jigsaw-like puzzle piece reveal on the new four-door Lamborghini Urus as we are. The only difference is he's done something about it — attempting to put this puzzle together for us with his own take on what the rear end's going to look like. Now, if only he could have done…
For those of you out there waiting patiently for yet another teaser image of the Lamborghini Urus concept, set to debut next week at the Paris Motor Show, today's image is a tail light and a trunk cut-line. What?! A trunk on a Lamborghini? Yes indeed, and one with a pretty low lift-over height at that. Take a note of…