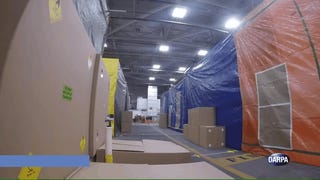 DARPA, the Pentagon's research division, just revealed a speed demon quadcopter that flies 45 miles an hour. It's like a cheetah drone. I can't stop watching glorious footage of this glorious cheetah drone.

If you're the proud owner of a drone—or are one of the thousands of shoppers who'll purchase one this holiday season—the Federal Aviation Administration (FAA) wants to know about it. And the agency has finally set a deadline.
The rapid exit of US ground forces from Afghanistan has caused an unforseen problem for forces in the region: Afghanistan's most remote regions are suddenly out of range of our conventional turbo-prop UAVs, making CIA interdiction against the Taliban nearly impossible. But a new generation of jet-propelled Predator…
Does Sasquatch (or Sasquatches) really exist? That question has been hotly debated by the scientific community for decades. But now, one Idaho State University cryptozoological team is hoping to finally provide a definitive answer—using this autonomous blimp outfitted with NASA-quality photographic equipment.
General Atomics' Avenger—the newest iteration of the classic Predator—is headed to war for the first time, Danger Room's David Axe reports. It's got F-35 sensors, loads of stealth weapons bays, and terrain-sweeping radar. Iran: start licking your lips.