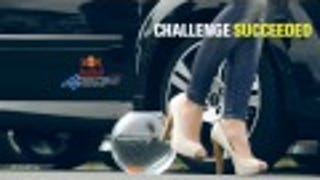 As part of a bizarre ad campaign, Renaultsport got Margot Laffite (F1 driver Jacque Laffite's daughter) to lap the 'Ring in a Twingo RS with a fetching young lady onboard holding a goldfish. Attention goldfish, nous approchons le Carrousel!
Remember the Renault Clio V6? Well Lazareth has taken the basic concept of sticking a big engine in the back seats of a little car one step further with a tinier Twingo and a bigger, Range Rover-sourced V8.
The new European commercial for the Renault Twingo is a reminder of the old country's ability to have fun little econoboxes like the Twingo Sport mixed with saucy, suggestive advertisements. Conceived by advertising firm Publicis, the safe-for-work 30-second spot proclaims "we live in modern times" though, in…
Those Renault people are on their game — literally: The same day the official Twingo Renault Sport details come out, they've dropped a Twingo racing game onto their website. Now, Gran Turismo 5 Prologue it's not; however, it is pretty entertaining for a web application (which requires an .exe install, we expect to be…
The latest sporty Renault to hatch is the Twingo Renault Sport. The newest Twingo RS gets a whopping 33 HP boost from the most potent Twingo RS of yore, up to 133 HP and 117 lb-ft of torque from its 1.6 liter, 16-valve four. Combined with a 60mm wider track, 10mm lower stance, a set of stiffer springs and some bigger…
What better way to show off your sporty new hatch than to place it next to a new formula one car? The new Twingo Renault Sport model bowed will bow with the latest F1 car from Renault at the Geneva Motor Show in March. This Twingo gets a new 1.6L engine good for 133 horsepower, sporty five-spoke wheels and a specially…
Whatever happened to the World's Tallest Man or the World's Longest Female Beard? English Stuntman Terry Grant has just set a new record for spinning a car through the tightest gap. Basically, he performed a J-turn - -where you speed in reverse, yank on the handbrake while simultaneously spinning the steering wheel…
There's only one way to get a respectable burnout in a Twingo, and this crazy Dutchman is gonna show it to us. And then he's going to get a new clutch. Simply the fact that any sort of hoonage is being perpetrated in a Twingo gets this one a 28 score on the Hoon-O-Meter.
England is car hell. Let's forget about the expensively obvious for a moment (insane taxes, equally insane gas prices, doubly insane speed cameras on every corner and under your bed) and the plain daf (Clarkson thinks the Jaguar XK is cooler than the upcoming Dodge Challenger) and look at the cars themselves. They…
Like linguistic differences among cultures, the new Twingo Concept, which foreshadow the successor to the current Twingo, haven't quite made the leap forward to the US. And why not, we ask? Especially since the concept marks the expansion of the Renault line-up into a whole new area for the Carlos Ghosn-led French…