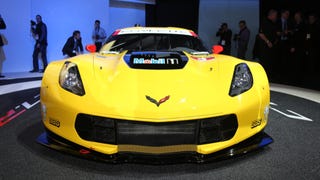 Along with the debut of the 2015 Corvette Z06 comes the debut of a new Corvette race car. The new C7.R promises to take up where the last Vette left off, and that's beating up on every other manufacturer in sports car racing.
The American Le Mans Series is dead. With the American sports car merger, we now have one series to watch. But Porsche had some very fond memories of their utter domination of the series, and they felt it appropriate to share.
Next year marks the end of the long war in American sports car racing, with- ALMS and Grand-Am finally coming together to give fans one series. It also means that the Grand-Am Daytona Prototypes and ALMS P2 cars needed to be equalized. Here's what that equalization looks like.