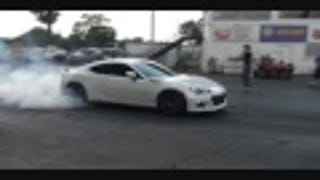 With its rear-mounted engine, no post-war car is more atypically American than the Chevy Corvair. Today's turbocharged Nice Price or Crack Pipe Corsa coupe is a prime example of the Corvair's wakadoodleness, but will its price prove equally unconventional?
In Get Smart, secret agent Maxwell Smart fought KAOS and had the hots for his fellow agent, the luscious 99. Today's Nice Price or Crack Pipe Saab 99 is also lust-worthy, but has its price missed it, by that much?
The MR2 eschewed Toyota's reputation for beigeness, and brought mid-engines to the masses. Today's Nice Price or Crack Pipe custom MR2 Spyder takes the car's anti-beige persona to over-saturation, but at a price you might find a little off-color.
Like Rodney Dangerfield, the E36 3-series never got the same respect as did the earlier E30 cars. And while turbo'd, today's Nice Price or Crack Pipe M3 may just add injury to that insult.
Until replaced by the lugubrious Del Sol, Honda's CRX played the part of spunky younger brother to the Prelude as the company's sportsters. Today's turbocharged Nice Price or Crack Pipe CRX demonstrates that sibling rivalries can be a good thing.
The Türbö Schnitzel XR4Ti has competed in several LeMons events here in South Carolina, with predictable results each time: KABOOM! Obviously, an XR4Ti must have a turbocharged Ford engine, but there's no law that says it can't be a V8!
Confirming speculation, BMWNA CEO Jim O'Donnell has stated in an interview with Business Week that BMW is indeed developing a new turbocharged 4-cylinder gasoline engine. Of course, when we'll see it on our shores all depends on who gets elected President. Wait, what? Said O'Donnell, "It will deliver stronger…
It's a little known fact that one of us Jalops spent the better part of our youth traipsing around the country in the back of a 1980 Toyota Corolla without so much as a radio installed. That first parental Corolla turned out to be a gateway Toyota and was followed by an unbroken chain of Corollas extending to this…
Remember when the Tomahawk rolled on stage beneath leather-clad Wolfgang Bernhard's posterior? Remember how we all thought Dodge must have had an aneurysm, and the "bitchin'" center of the brain was now running the show? Well, in light of what we have here, Dodge's Viper-powered bike/car mashup looks more like a…