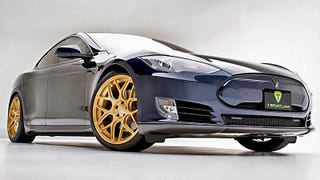 There is no doubt that the Tesla Model S is a premium product that carries a premium price tag. While Tesla themselves often quotes the "starting at" price for their Model S, however, at least one Tesla owner wanted to see just how high he could get the car's price by ticking all the options that were made available…
We already know Turner Motorsport enjoys a bit of the ol' hot drifting blond, but what's its like to drive the Turner 2011 Continental Tire Series Championship-winning E92 M3 Race Car, sans blond? Let's see.
The Nissan GT-R is a stunningly capable car right from the factory. Add a few hundred extra horsepower and it's a jarheaded MMA enthusiast deep in the throes of 'roid rage. Is that a good thing or a bad thing?
The car world is lousy with fly-by-night tuning shops. RENNtech isn't one of them. Founded in the 1980s by 15-year AMG veteran Hartmut Feyhl, the Florida shop has put the screws to hundreds of Mercedes-Benz (as well as Porsche and BMW) products over the decades.
We may have already driven DMC's electric Delorean, but Matt Farah does it on video. So here it is, and now let's see if we can get out of this post without any Back to the Future references. Instead, let's pretend the Delorean starred in another 1985 film, Brewster's Millions, with Richard Pryor and John Candy.
We've been waiting for someone to test drive the turbocharged, double-OMFG Hennessey Venom, and someone finally did. That someone is Matt Farah. Prepare to feast your ears on one of the most amazing sounds you've ever heard on the highway. Farah screaming his head off.