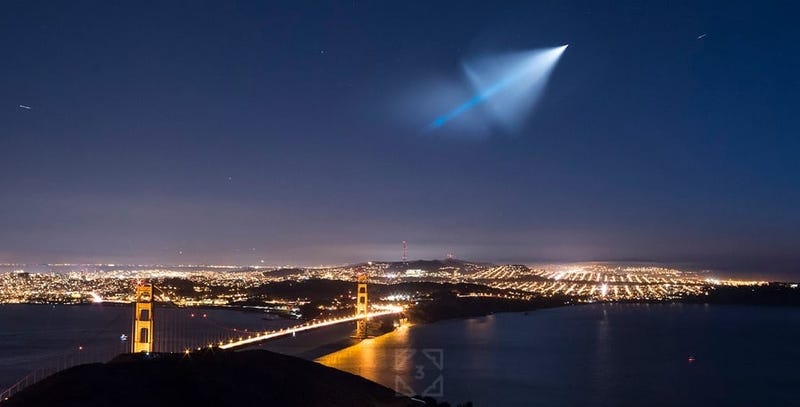 Justin Majeczky was perched high above the Golden Gate Bridge on Slacker Hill executing some time-lapse photography last night when something showed up in his frame that he surely didn't expect—a Trident D5 ballistic missile launched by the USS Kentucky off the coast of Southern California.
Reports flooded in today stating that the warning areas off the coast of Southern California—around the Navy's Pacific Missile Range—would be activated, causing noise issues associated with re-routed LAX operations. Theories flew, some being totally absurd. In the end, it was exactly what it should have been—a Trident…
We're all familiar with the wonderful Peel P50, the smallest production car ever made. But, what's the deal with Peel? Turns out, it's an interesting story. The teeny microcar wasn't the first automobile with a Peel badge, nor would it be the last. And, despite being one of the slowest motor vehicles ever, Peel's name…
The absolutely mad(ly awesome) Trident Iceni has been around for a few years now in the United Kingdom, terrifying countrysides and giving owners pleasure with its 6.6-liter truck diesel stuffed under the hood. But that's how it's always been. Europe gets the crazy things, and the US is left out in the non-crazy cold.…
Like an adorable, tiny zombie popping out of its tiny, adorable window-box grave, the Peel P50 and Peel Trident are back from the dead. Neither of the tiny, tiny cars has been built since 1966, but a new company, with funding from the BBC's show Dragon's Den, is starting production up once again, as announced earlier…
Nondescript 18-wheelers are secretly transporting nearly 1,000 of the U.S. Navy's 100-kiloton W76 nuclear warheads from a submarine base near Seattle to a plant in Texas. Worse news? It's by an agency recently investigated for problems with alcohol abuse.
Microcars are like aged cheese - some people find them absolutely confounding and a little disgusting, and the loonier of us can't get enough. The problem with microcars is they don't really make em like they used to. Oh sure, you've got your Smart FourTwo and your Toyota iQ and your Tata Nano, but those are…
A slithery GT coupe powered by GM's 6.6-liter Duramax turbodiesel? What's next, a Navistar-powered TVR? A Cummins 610 Turbo Morgan? Not so fast — the Trident Iceni is for real. And with 375 hp and 520 lb-ft of torque, it can get up and go from zero to 60 mph in 3.9 seconds and top out at 170 mph. The company's taking…