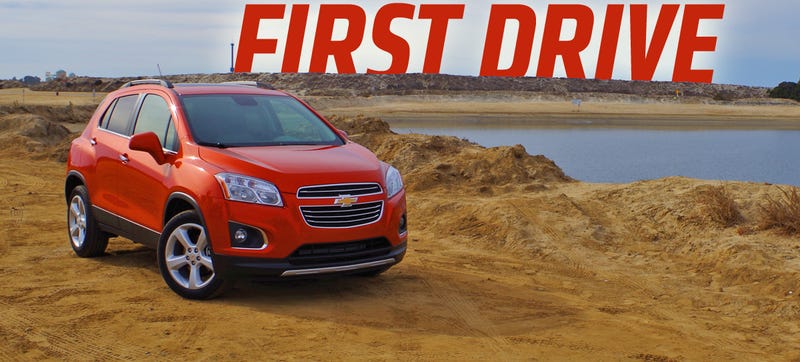 America is going absolutely ape-shit over the "small crossover" segment (yes, that'd be "lifted hatchbacks"). The Nissan Juke started the fad with tuner-car flavor. Jeep's Renegade is putting a three-day beard on it. And the 2015 Chevy Trax does the same work without putting a lampshade on its head.
What the world needs right now is yet another over-styled, utility and sport-free crossover, am I right? GM sure thinks I am, this new Chevy Trax combines the high center of gravity, compromised interior space and crappy driving dynamics of an SUV with the styling of a Transformers movie.
A new Activision website for the Transformers movie sequel video game features shots of robot modes for the Chevy Spark (Beat) and Trax. Frankly, they both look like hicks. A larger, higher-quality shot below.
Looks like the crew of Transformers 2 was caught on-set in Arizona at Davis-Monthan Air Force Base along with a couple of the more robotic cast members — albeit while in their vehicle mode get-ups. Based on the plates, it looks like we're also able to put a name to the bot who will be played by the Chevy Beat: Skids.…
The votes are in, those who voted in the GM survey to pick the next microcar selected the Chevy Beat (pictured). I guess when you have a contest you shouldn't be surprised when the one you named Beat beats the competition. Out of 1.9 million votes this was the top selection, besting the Trax and the Groove. The Beat…
It's a slow Saturday – especially after huffing down a Rose Street Burger at Mo's across the street from Bob's Big Boy – so we're digging through the flash drive that GM gave us last night. Curiously, included with PR gunk stuff about the Camaro Convertible and Holden EFIJY concepts are these pics plus a press release…
Ok, not really, but the few flakes we did see yesterday outside the Javits Center as we left another New York Auto Show were significantly more than those I saw during the 60-degree-plus temperatures we had in Detroit during the LA Auto Show. But because that didn't stop Times freelancer Jerry Garrett from making the…
It's 10:46pm California time as I sit down to write this. But I'm not in San Pedro. I'm somewhere near Saint Marks Place in New York City, and the only sounds in the room are the tapping of two Apple keyboards and the rattling dull whine of air filters sucking the cigarette smoke out of the air of a spacious loft…
We took a look at the three minicars Chevrolet unwrapped at the New York show: The Beat, Groove and Trax. All three are smaller than a jar of cornishons, but each one follows a distinctive style path. The Beat is a sporty hatch, not far from Chevy's WTCC concept; the Trax sports "active lifestyle" pretensions; and the…
The General whose prime directive is Motors will unveil three concept minicars at the New York auto show. John Q. Public will be bid to vote on his favorite of the three urban runabouts on www.vote4chevrolet.com. The first to be revealed is the Trax concept (shown). Common sense says the contest results will have the…