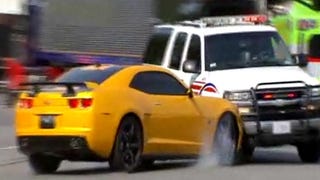 The star-crossed filming of Transformers 3 suffered another accident today when Bumblebee drove through an intersection and sideswiped a Washington D.C. Police SUV. The crash was not part of the script and the yellow Camaro was seriously damaged.
Video of the Transformers 3 accident that put extra Gabriela Cedillo in a coma was leaked to RadarOnline. The footage shows Cedillo's car being pulled along a barrier, but does it contradict the studio's claim she wasn't in the shoot?
As investigators attempt to determine the cause of the Transformers 3 accident that sent a 24-year-old extra to hospital with brain injuries, Paramount, the studio behind the film, is suddenly contradicting eyewitness and police reports.
A horrific accident on the set of Michael Bay's Transformers 3 sent a female extra to the hospital in critical condition and raises questions about the destruction-filled shooting. Update.