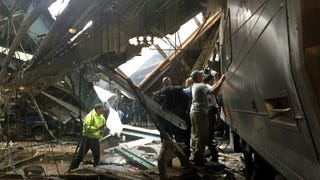 Thomas Gallager, the engineer of the train that crashed into the Hoboken, station in New Jersey in September had a severe case of undiagnosed sleep apnea, according to his lawyer.
The UK's Sky News reports that 44 people were injured this evening in Granges-pres-Marnand, Switzerland when two trains crashed into one another.
It's the act-two follow-up to that Turkish guy who saved a town from a fireball. A police chase in Cedar Rapids, Iowa ended when a police cruiser was hit by an oncoming train.
A train pulling tankers full of ethanol derailed and exploded in rural Ohio this weekend, sending up a fireball that could be seen 20 miles away. No one was hurt, but the train's conductor is probably never using E85 again.
An out-of-control service train barreling down the track on a small peninsula in Stavoren, Netherlands sliced right through a boating store and 300 yards of parking lot after busting through safety barriers. Incredibly, nobody was injured. [NBC-2]