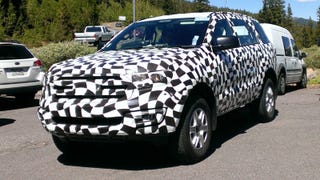 What could only be a Ford Everest in camouflage was spotted this morning at Mt. Evans, Colorado by two different readers. We reckon it's only here for high-altitude testing, but it's possible the off-roadable SUV might be headed to the US. Or, perhaps, its cousin and perennial Jalopnik favorite: the Ranger.
To misspell a vanity plate? Embarrassing. To have the correct spelling twice within two feet? Mortifying. To own a Toyota Sequoia? Incomprehensible. We're betting this hapless driver doesn't even know there's a problem. (Hat tip toDusty_Duster!)
Toyota is reportedly killing the full-size Sequoia SUV. We hear they're not planning on building a replacement off the Taurus Camry platform. [PickupTrucks]
Hands off gentlemen, this Sequoia belongs to a dragon.
All Denise Anderson wanted to do was test drive a used Toyota Sequoia at her local Tampa Bay, Florida dealership. Unfortunately, a nine-foot alligator beat her there. Chomp, chomp!
Toyota appears to have hit upon a novel way of unloading excess US truck and SUV supply: Send the vehicles overseas. While no firm decisions have been made, Steve St. Angelo, president of Toyota Motor Manufacturing Kentucky, told a group of industry observers the company's full-size Tundra pickups and Sequoia SUVs…
If you're waiting for the 2008 Sequoia because you feel the old model lacks the bulkiness you require in a suburban cruiser, you're going to have to pay $34,150 just to get in, a $990 premium over the previous model. The big addition to the Sequoia (other than the beefy body) is the 5.7-liter V8, which puts out an…
Toyota's new 2008 Sequoia looks like it's been hitting the 'roids (I swear, it was flaxseed oil), with a new, bulkier front-end that looks like it was grafted directly from the Tundra, with a little more heft added around the fenders. And what's the point of taking steroids without getting a performance enhancement?…