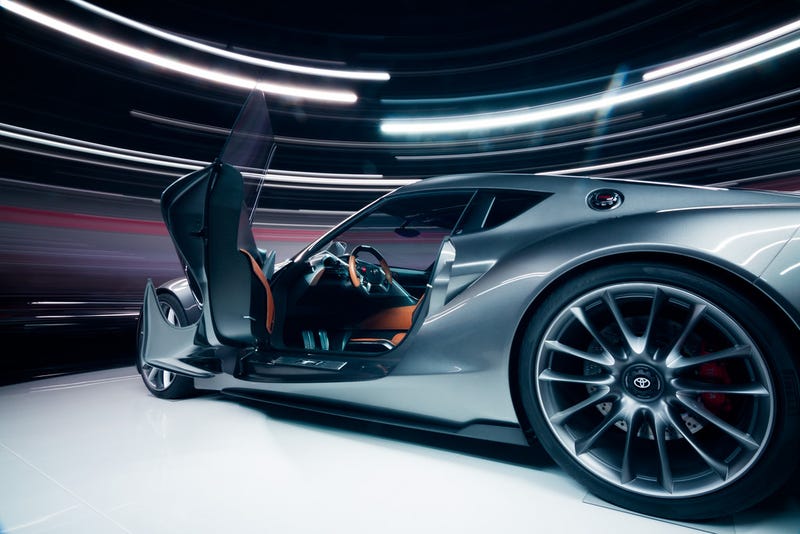 Today's wallpaper comes to us courtesy of Nikhil Nachappa, who shot this FT-1 at this year's Detroit Auto Show. Nachappa told us, "I won the photo contest for the concept cars category with this photo." It's easy to see why!
The Toyota FT-1 wasn't a real car, in the sense that it was it just a concept and a design study. And this version of the FT-1 is even less real because it's for Gran Turismo 6. I don't care. I want to believe.
The Toyota FT-1 was one of the most surprising auto show debuts I've ever covered, but it's was also one of the most polarizing. People either loved or hated its aggressive design. Now, for Pebble Beach, the FT-1 has ditched its boy racer red paint for something a little classier.
We know a lot of things about the Toyota FT-1 Concept for sure. We know it was designed by the company's CALTY design studio. We know it would have 485 horses. We know it looks pretty swell. What we don't know for sure is if it is indeed the next Supra. But some people are claiming for sure that it is.
Toyota dropped a surprise bombshell on us with the stunning FT-1 Concept at Detroit this week, but what they didn't give us were any specs on the car. Luckily, we have Gran Turismo 6 to take care of that for us.
Well, you can drive the Toyota FT-1 if you've got a Playstation and a copy of Gran Turismo 6 spinning around inside of it. Gran Turismo has again teamed up with an automaker — this time Toyota — to bring fanciful products to life.
I got up close and personal with the Toyota FT-1 and found out that the exhausts out back are more than big enough for some hot human-on-car action. Honda Civic tuners circa 1999, please step right up.
"This is coming straight from the top," Toyota designer William Chergosky tells me about their jaw-dropping surprise Toyota FT-1 sports car concept. "This is to prove that we're not a vanilla company anymore."
Toyota 'unboxed' their FT-1 design study/maybe future Supra, but they had some trouble doing it. The box didn't open right, the driver was waving everyone to fix it, and everyone just stood there until a tech guy came and pulled a non-compliant chain out of the way.