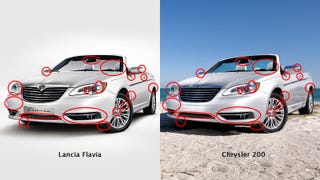 Fiat's Lancia arm showed off today the Chrysler-based models coming to Geneva next month. Considering Fiat's controlling stake, it's no surprise the new Europe-only Lancias are rebadged Chryslers. What is surprising: Lancia appears to have done the rebadging in Photoshop.
Come Halloween, Chrysler will idle its St. Louis South minivan plant indefinitely. And, just so the 1,500 employees at St. Louis South are clear about the meaning of "idle indefinitely," co-president Tom LaSorda said, "We see no intent to rerun this plant. We're idling it and it will likely be fully closed."
Dan Neil wants you to know the 2008 Chyrsler Town & Country Limited just might be the sexiest vehicle a man could ever drive...even if it does have the styling of a cinder block. [LA Times]
Despite the fact the German side of the German-American hybrid no longer wants anything to do with the 'merican side, the 'mericans are still trying to feel pretty inside. That's why they've released a set of four new ads touting their vehicles as being "engineered beautifully." That phrase apparently is the…
The Detroit News must be having the same problem we've been having trying to keep up with the fast n' furious pace of the big dance. Must be why they slipped in this pic of the newest Chrysler minivan for the story on the new Ford Focus — showing yet again why there's a need for coyrighters four thee internets.
Chrysler Group's been more tight-lipped about the money-making minivan than even the 600 hp Dodge Viper — and that makes sense, as they'll be selling somewhere around 100 times the number of minivans than cobra-kai cars. So it's no wonder they'll probably be a little upset some Spanish-language mopar enthusiast…
Production of two new vehicles was confirmed in a memo to dealers of the 'merican side of the German-American hybrid this week, obtained by Katie Merx of the Freep. The first, the Dodge Avenger, which was introduced in Paris this year as a "concept car" or "prototype" (depending on who you asked in Auburn Hills — of…