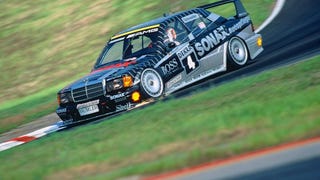 This touring Benz isn't a BOSS, but it is Boss. Hugo Boss. AMG was so successful campaigning this car in DTM, Mercedes purchased the tuner outright. [via PhotoFinish]
Outside of the United States there are mystical racing events called "Touring Car" where cars actually resembling family production vehicles turn both left and right. To compete in these magical happenings Ford created this Focus ST-based Touring Car Concept.
It's official, DTM-style touring car racing's coming to the United States in 2012 via NASCAR/GRAND-AM.

The Thomases, Detleffs and Haralds at ITR the German-based sanctioning body that governs the DTM Touring Car Championship are attempting to control costs by demanding that cars in the series conform last year's standards for components such as aerodynamic aids and safety cells. Limiting the number of new tires per…