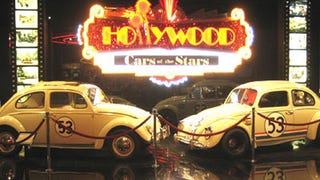 NBC pulled Conan O'Brien's devious Bugatti Veyron Mouse sketch from last night's "full episode" replay of the Tonight Show on NBC.com and Hulu — apparently unwilling to pay royalties for Conan's "crazy expensive" car-starring sketch. Video evidence below.
Bugatti only built and delivered a couple hundred $1.5 million-and-up Veyrons and there's only a handful in California. So when Conan O'Brien trotted out the Bugatti Veyron Mouse on last night's Tonight Show, we wondered: where'd he get it? UPDATED!
Conan O'Brien has been searching for America's worst car and Aaron Fast seems to have it — whatever it is. This Friday it'll be blown up and replaced with a Lexus HS250, which is at least a half-step up.
Chrysler's new owners have been quick to move the company in a new direction. A more Italian direction. Hard hitting late night journalist and SHO-enthusiast Conan O'Brien uncovers the company's new ad campaign.
Think Conan O'Brien left his Yamaha-engined Ford Taurus back in New York when he moved out to LA to take the reins at the Tonight Show? Think again. Last night saw Conan's first Tonight Show as well as the return of his green SHO!