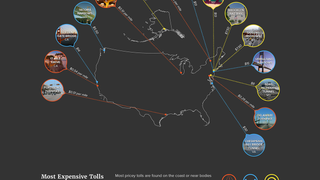 Nobody likes paying tolls, but they are a necessary evil. The money from tolls is used to fund the construction of new roadways, as well as maintenance. Unless you live in one of the 22 states that don't collect tolls, or a state where you can get by without owning a car, you have no other choice but to pony up and…
Usually when you call up a customer service line, you're treated to some smooth jazz, or maybe even a little tango, while you wait. But not E-ZPass. Instead, you're treated to the sound of so many people banging their heads on tables, all at once. This is the noise that hell itself makes.
You ever think what would happen if you just went through one of those E-Z Pass lanes that don't have a gate? And then nothing happens, so you just sorta do it again? And again? And again and again and again and then it turns out you racked up over $200,000? No? Weird. That's what one guy in Virginia did.
A court in rural China sentenced a gravel hauler to life in prison for avoiding some $550,000 in tolls. Now his conviction has set off an uproar among Chinese citizens tired of a neverending maze of road fees.
A New Jersey Turnpike audit uncovered $43 million in unnecessary spending, including paying $227,000 for employee birthdays to a retiree who boosted their final year salary to $321,985. Maybe it was paid in loose change.
The Orange County Register recently did an in-depth investigation to find that hundreds of thousands of people are blowing by tolls, not paying a dime and not being penalized. This is due to a special confidential plate program that was initiated 30 years ago to protect police officers from criminals by not including…
While the bridge is officially named after George Miller, and is referred to by state officials as "The Benicia-Martinez Bridge," locals know it as the Benicia Bridge, and its second span is about to open. We remember the massive clangs when they were driving pilings for the structure four years ago. Has it been four…