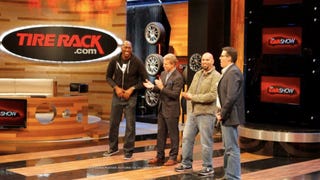 From Matt Farah, the now-former co-host of — "The Car Show" — a now-deceased Speed TV show seen by countless dozens of Americans:
There's been a massive shake-up at SPEED TV's automotive variety program The Car Show with former NBA great and current TV not-so-great John Salley axed from the show, along with 30 minutes of the formerly hour-long program, as Jalopnik exclusively learned. Details below.
We were supposed to talk to Adam Carolla today about the first season of The Car Show, but the event was cancelled following a rant on his podcast where he claimed the LGBT community should shut up about getting equal rights and stop "ruining his life."
Ratings for SPEED's The Car Show with Adam Carolla and the second season of History's Top Gear USA show the latter with an audience of approximately 2.0 million viewers, compared to just 249,000 for the former.
If you've got SPEED (the network, not the drug), you might want to tune in at 10 PM EST to see The Car Show. Discuss the bits, the remotes, and the desk right here.
Make sure to tune-in to see The Car Show with Adam Carolla on SPEED tonight at 10 PM EST. Come from the car humor, stay for the two hours of Pinks.
In my dreams, I am an eagle, gliding above mountains and plains, diving for the silver flash of a salmon. In my nightmares, Dan Neil dons a hot-dog costume and shouts at me through a bullhorn. Here's a new clip of stuntwork from Adam Carolla's "The Car Show," due to be yanked from the hot wiener water this Wednesday…
The first promo video of The Car Show revealed a set clearly borrowed from Merv Griffin. Jalopnik readers made fun of it and now, as this exclusive photo shows, they've dropped the desk and replaced it with a bowling alley and, wait, wait, is that a sponsor's logo on the wall? I can't quite make it out.…
The KTM X-Bow is one of those lightweight, track-day cars long denied to red-white-and-blue car nuts. But looking on in envy is so last year. QuattroWorld's Josh Decker and eGarage.com's Ben Abrams were among the first to score a drive of the KTM X-Bow on U.S. soil. — Ed.
Many questions abound about how "The Car Show with Adam Carolla" will differentiate itself from "Top Gear USA" since both shows are about car guys hanging out and driving cars. This first trailer shows the first big difference: a really crappy set.
Adam Carolla's "The Car Show" featuring Dan Neil, Matt Farah and John Salley will open the network's summer season on SPEED Wednesday, July 13th at 10 PM EST.
Speed TV's adding talented auto scribes Ezra Dyer and Aaron Robinson to "The Car Show" team. "The Car Show will be the definitive U.S. program on everything automotive," said Speed President Hunter Nickell. And that's a real high bar.
So far, what we know about Adam Carolla's "The Car Show" is that, in fact, it will be a show about cars. Also, John Salley. [autoeclectic]