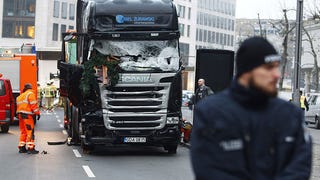 Earlier this month, 12 people were killed and dozens more were injured when an attacker drove a stolen truck through a crowded Christmas market in Berlin. If it hadn't been for an automatic brake system mandated by European Union rules, however, last week's tragedy could have been even worse.

At this point, "creepy clowns" have been spotted in over a dozen cities, and at least one has supposedly lightly scratched a young boy. Whether or not we're ready to admit it, our days of being able to walk down the street dressed as an evil jester with a chainsaw are over. Clown Purge has arrived.
Belgium has been on high alert for terror attacks since the November 13th attacks in Paris. Now those anxieties have become a reality with one attack hitting a check-in area at the Brussels airport and two others hitting Brussels subway stations, leaving dozens dead or wounded. The attacks come just four days after…
Salah Abdeslam, who is thought to be the logistical chief behind the series of terror attacks that rocked Paris last November, has been caught during a violent anti-terror raid in the Molenbeek neighborhood of Brussels. He is reported to have been shot in the leg, but is in stable condition.
Details remain spotty, but early reports indicate a U.S. drone strike was carried out on a terrorist training camp in Somalia just as a very large group of fighters had amassed. Sources told the Washington Post and other outlets that the targets planned to attack U.S. interests in area.

A much-loved longtime law enforcement canine lost its life last night as members of France's elite hostage rescue and counter-terror team known as RAID assaulted a Paris apartment safe-house containing individuals suspected of planning another attack, according to reports.
Russia has now integrated its strategic bomber assets into its air campaign in Syria. Tu-22M3s Backfires, Tu-95MS Bears, and even Russia's precious handful of Tu-160 Blackjack bombers have all delivered ordinance onto targets in Syria. This comes as Putin himself has announced that a bomb did indeed take down…
What is clearly a well-planned, multiple-pronged terror attack has hammered locations around Paris tonight. Here is what we know and what we don't know about the attacks.
Last week, the International Parking Institute announced their 2015 Seven 'Best Places to Park' list, and the highly controversial results are sending shockwaves through an industry that is no stranger to drama, danger, and massive volatility. We at Jalopnik would like to issue a plea for calm and reason in the…
A legal website used by attorneys to privately discuss case law is shutting down after 10 years because the owner no longer feels the site's users are protected from government spying. After federal threats led to the closure of several secure email providers, the publisher of Groklaw closed her own operation last…
A passenger on Delta Flight #1404 from Los Angeles to Salt Lake City told us a first class passenger, described as "swarthy," was yanked off the plane at landing by security after "erratic behavior" during the flight. UPDATE BELOW.