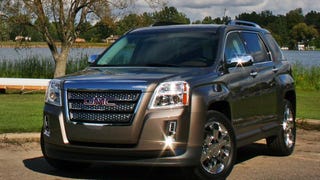 We were quite impressed with the 2010 Chevy Equinox on our first drive, but what about its platform-mate, the controversially-styled 2010 GMC Terrain? It's both more butch and expensive, but does it offer any substance over the Chevy? Not really.
Itching for the 32 MPG highway 2010 Chevy Equinox but really want it with a GMC badge? It'll be a $1,810 premium on the base model as the 2010 GMC Terrain starts at $24,995. Full details below.
The 2010 GMC Terrain will debut next week at the New York Auto Show, bringing a considerably more rugged attitude to GM's small SUV platform. One might say it's even more "like a rock."
Here's the very first shots of the General's upcoming Theta-based crossover that's all about being "Professional Grade" — the 2010 GMC Terrain. The Terrain's showing a big block-like grille peeking through the semi-transparent bra it's wearing. Our spy shooters even indicate they believe the mesh you see surrounding…
You might remember the Theta-based GMC Terrain from the Kuwaiti International Automobile Exhibition. Apparently, GMC decided they wanted a piece of the action and will be bringing the mini-ute to the Chicago Auto Show. Interestingly, some reports say that the new Terrain will be based on the extended wheelbase Theta…
Not content to have their spotlight stolen by a bunch of lousy Pats fans at the New England International Auto Show, the Kuwait auto show has unveiled the new-for-them GMC Terrain. If it looks to you exactly like a rebadged Saturn Vue, that's because that's what it is. While this does mark the first compact SUV entry…