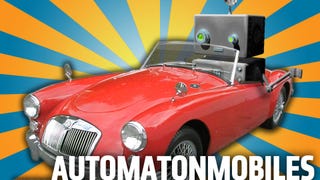 Remember when I compared spaceships and cars? Sure you do. We all had a good time, a lot of laughs, some "just pals" snuggling, and I think we all did a little bit of growing up.
Pentagon scientists working with MIT and Harvard researchers have developed a paper-thin shape-shifting structure capable of transforming into a toy boat or a paper plane by itself. This development is of course the first step towards real-life Transformers.
We've seen tons of home-brew Tumblers built by back-yard Batmen, but so far nobody's build the... ahem, batshit-crazy Batpod. Industrial designer Marouane Bembli's combined that machine with the Terminator motorcycle and penned a movie-inspired creation he's calling the Bat Bike.
The human-harvesting robots in the sci-fi film trilogy The Matrix appear closer to reality if DARPA gets its way. Below is what they call the EATR drone.
Terminator Salvation is scheduled for May 21st premier, but the viral marketing is already gearing up, with a "Skynet Research" website now online where you'll find this: the Skynet Research Autonomous Mass Transit Bot.
The tech-loving guys at Wired have a whole slew of spoiler-filled images from the new Terminator 4 movie, Terminator: Salvation. Most interesting to us was the first up-close look at the "Terminator motorcycle" below.
Thank you Chrysler for taking taxpayer money and applying it where it is truly useful: Movies. Chrysler plans to bombard us with product placement (please, not the Sebring) in the upcoming Terminator: Salvation.
Thanks to an early release of this Japanese version of the Terminator Salvation trailer, everything we saw at the beginning of November now gets tied together for us.
Our sister site strung out on science fiction has unearthed this featurette from the ashes of a post-apocalypse Los Angeles. The three-minute-plus video contains a number of spoilers from the upcoming McG-directed movie set before the events of the first three Terminator movies (sort of — I mean, if you ignore that…
Product: 2009 Dodge Ram TV Show / Movie: Terminator: The Sarah Connor Chronicles Episode / Scene Name: Automatic for the People Plot: Driving up to the nuclear power plant, the 2009 Dodge Ram is sure looking clean and shiny, isn't it? Wethinks perhaps a work truck should NEVER look this clean. Especially when it's…