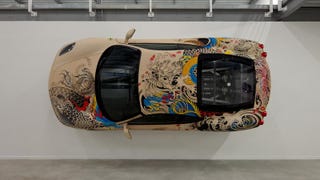 French artist Phillipe Pasqua created a unique allegory for the blending of man and machine: he covered a Ferrari F430 with leather and tattooed an intricate mural on the cowhide.
A tattoo is a deeply personal act of bodily adornment; asking why a person chooses something is not always a reasonable question. Still, and despite our rabid love for "Captain Slow," we cannot understand why someone would want a portrait of Top Gear's James May on his thigh for the rest of his life.
People have done crazy things because they love F1 champ Michael Schumacher so much, including giving him an entire island in Dubai. But does the gift of land top the gift of insane human disfigurement?
"For my 16th birthday my dad and I got matching tattoos. Being ford fans all of our lives we designed a Ford tattoo." Way to one-up those PBR-swilling pansies from the Fiesta Movement. [Flickr]
Seen one of those utterly reprehensible Audi/Dope bumper stickers, likely on a coffee-canned Civic? This guys has, and thought it was so cool he'd get one tattooed on his left bicep. Dope. [Audizine]