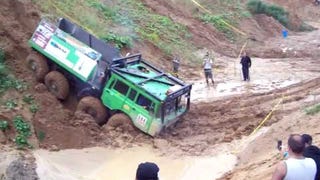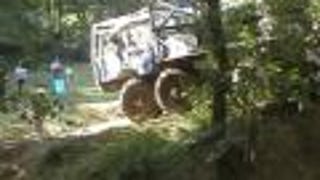 Oh no, this 6x6 Tatra 813 rolled onto its side — it'll never get up! Hahahahahahahaha NOPE.
Like bears in tutus, 8x8 Tatra 813s are not the best dancers. You'll see what I mean when you watch these 30-ton machines attempt a beautifully choreographed ballet on ice.
There are off-roaders, and then there are military-grade, eight-wheel-drive off-road titans. This Tatra 813, powering out of a potential rollover at the 2011 Mohelnice Grand Prix truck trials in the Czech Republic is the latter.
Purchasing this eight wheel drive Tatra "Heavy Prime Mover" is almost guaranteed to draw groans on par with the worst puns from at least someone in your life. If you aren't concerned with the effect this Tatra will have on your personal relationships, wallet or property value and want to enter long term project car…