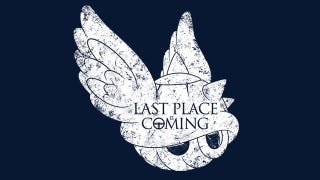 A week ago, someone emailed us a design for what we are officially calling the World's Greatest Most Bestest Center Differential T-Shirt Ever What Ever Ruled the Land. Turns out people actually enjoy candy-fueled, caffeine-powered babbling. Who knew?
Many, many readers were all in a tizzy after they saw the LeMons Team Shirt-stravaganza last weekend, because they needed to obtain a Team JDL BMW team T-shirt. Well, now you can- just in time for Hanukkah shopping!
I've been working on Walker Canada to print up some cheap Noch Ein Scheiß-E30 shirts for our readers, but no dice on that effort so far. However, he did make some more DTTS shirts!
Someday, when the 24 Hours Of LeMons is bigger than NASCAR, the custom T-shirts created by LeMons teams in the early days of the series will be valuable collector's items. Let's check out a sampling!
The "Save GM" t-shirt went over so well, we decided to expand the not-official Jalopnik store offerings to now include the rest of the not-so-Big Three with Save Ford and Save Chrysler t-shirts plus an exclusive Save Detroit t-shirt. In these trying times, one needs to be sporting a kitschy t-shirt and frankly,…
This shirt — emblazoned with the words "Hogan Can't Drift" basically says it all about everyone's favorite p***y-magnet boy-racing pro-wrestler spawn. The bigger question is, "what's that car the 'model' is leaning against?" JDM RX-7? MR2? You tell us. All we know is if we still had a Gawker t-shirt store this totally…
We're well aware of water cooling in engines, and hell, even in computers, but a water-cooled t-shirt isn't such a common idea. The Club System 24 is a t-shirt that is wrapped with eight feet of double insulated hose that flows cool water around the body keeping you nice and relaxed in that sweltering-hot car. The…