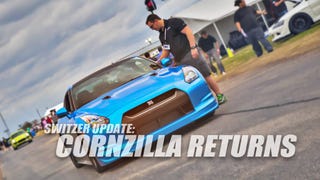 Switzer Performance released the new-for-2014 E900 flex-fuel package for Nissan's R35 GTR earlier this month, and the new, more powerful E900 GTR got its first trial by fire at TX2K14 last weekend.
Switzer Performance is one of the most successful tuners at the insane Moscow Unlimited standing mile drag races- and this 1800 HP "Goliath" GTR is one of the most insane cars to ever run at the event ... even by Russian standards!
Many people need a release from the mundane reality of everyday life. Some enjoy a picnic by the lake. Others escape for a round of golf. Then there are those who take it to the extreme. They enjoy hurling themselves out of an aircraft, with a flimsy-strapped backpack attached to their shoulders. Or risk life and limb…
It's been almost two years since we featured an E85-fueled Nissan GT-R from Switzer. Since then, the Ohio-based tuner has been steadily improving their cornfed-Godzilla conversion package to the tune of a nearly 25% power jump.
If you were interested in proof the Switzer R1K Nissan GT-R lives up to its 1000 hp claim, here it is exceeding it, returning 1005 hp and 811 lb-ft of torque. Monumental dyno chart below.
"Don't compete with your contemporaries, crush them." seems to be the operating principle at Switzer Performance which has unofficially debuted its 1000 HP Nissan GT-R R1K package. Without a doubt, this kit is aimed squarely at the Bugatti Veyron.
Switzer is calling this flat white, 900-hp, ethanol-burning Nissan GT-R the E900, but we think "Cornzilla" is a better name for this vegetarian monster. It'll hit 60 MPH in under three seconds and has a 220-mph top speed.
The Switzer P800 Nissan GT-R is fast, but 700HP at 3800lbs wasn't good enough. The Ohio-based tuners have reworked the car and bumped output to 800HP and chopped weight by 200 lbs. Meet the Switzer P800 Nissan GT-R Track Animal.
Achieving big power with turbochargers is relatively easy, but making huge horsepower while retaining driveability is an enormous task. Peak at the dyno charts and you'll see Switzer's 997 Porsche P800 makes no sacrifices on the road to 800 HP.
The Switzer P800 Nissan GT-R makes over 700 HP at the wheels, nearly double that of the comparatively plain-Jane GT-R. Luckily that's at all four wheels, because we drove it through both snow and ice.