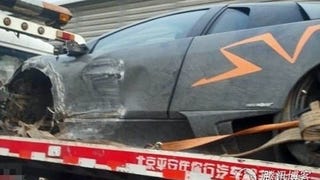 There's only supposed to be 350 of the 661 HP $450,000-plus Lamborghini Murcielago LP670-4 SV ever made. Looks like they actually made 351 — and that extra car's just been totaled in an accident.
If these leaked images and data are correct, the Lamborghini Gallardo LP570-4 SuperVeloce might be gaining even more power and dropping more weight than the LP560-4. That probably means close to 570 HP and less than 3,300 Lbs. Update!
Lamborghini's been extremely forthright in their mission to release a new car yearly and with the LP550-2 Balboni making headlines earlier this month, it begs the question — will we see an LP550-2 Superleggera?
Hey Blake, you might want to hold off on your order for the new Lamborghini Murcielago Superveloce. Looks like Boeing and Airbus are snapping up all the super lightweight resin they can get their hands on. The price per pound for the good stuff has mushroomed from $5 to $20. There is a certain irony to this story. As…