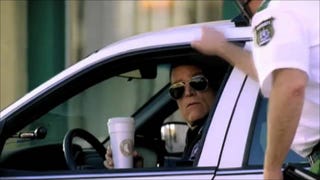 A crazy conspiracy nut wants you to boycott Audi because he thinks the Green Police Ads are fascist. No, not because the original green police rounded up Jews, but because green politics supposedly violate the constitution.
We love cars and we love the Super Bowl. It stands to reason we especially love Super Bowl car commercials. Below is our list of the 11 best Super Bowl car commercials of all time.
Despite our high hopes, we won't get to see Cars.com's Kicking Tires blog editor Dave Thomas fighting Glondor in a stone circle death match. No, instead, we're treated to an ad officially named "Lifetime of Confidence." The commercial follows the curious tale of David Abernathy, an exceptionally bright young lad who…
Here's the full Iron Man Super Bowl commercial we showed the teaser shot from on Friday in all of it's auto-loving glory. See the Audi R8...just sitting there. See the Saleen S7...just sitting there. See the Cobra...just sitting there. See...umm...the Tesla Roadster...yeah, you get the picture. Well, whatever works…
Here's the Ford F-150 pre-Super Bowl commercial featuring everyone's favorite dirty job do-er, Mike Rowe overlooking a centrifuge spinning the big Ford pickup around by the tow hooks. And yes, it appears they really did do it — no special effects here boys. While not a "real" Super Bowl commercial as it aired a mere…
As a quick aside to our Super Bowl commercial watching — in addition to the hilarious "Godfather" Audi Super Bowl commercial, the "Truth In Engineering" site is also home to a bunch of high-production value videos, each a riff off the "Truth In..." thing the Auto Union's got going on. All of them are sure to delight…
UPDATE: The official Iron Man Super Bowl commercial! Apparently it's not just automakers like Hyundai and Chrysler with money to burn this Super Bowl Ad Watch weekend. Nope, it's also the movie industry — it looks like Iron Man will be getting some love in a commercial airing this Sunday during the big game.…
If you're not a football fan, you may have just lost one reason for watching the big game this Sunday night (unless you're going to be watching in anticipation of a Tom Petty wardrobe malfunction). That's right, we've got the highly anticipated Hyundai Genesis Super Bowl Ads right here, right now.