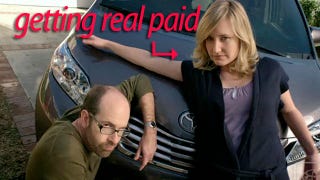 U.S. auto safety regulators say after several months studying 280,000 lines of code, they found no electronic cause for unintended acceleration in Toyotas — only mechanical issues like sticking pedals and crappy floormats. What about sheepish drivers?
A California judge says Toyota can't stop lawsuit over cars that can't stop. [Bloomberg]
Data from black boxes in 58 Toyotas involved in sudden acceleration cases shows no evidence of any other defects beyond sticky pedals and chunky floormats, according to a report U.S. regulators gave Congress today. But you already knew that.