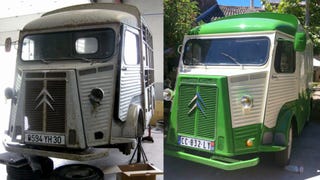 Husband and wife team Amy Lillard and Matt Kling are a rare breed: They're Americans making wine in France. But they've brought a little American ingenuity to the traditional French winemaking process. Their tasting room is a 1979 Citroën HY Van.
A Belgian-waffle truck on Street Meat Week? Sounds très dubious, until you consider NYC's Wafels & Dinges offers pulled pork over a bacon-and-syrup waffle. Two kinds of pork, eleventy forms of sweetness? Giddy up, my good marchand ambulant.
Frites 'N' Meats survived a crash and propane-tank explosion to remain one of the most popular "second wave" NYC food trucks. But do their burgers and Belgian-style fries continue to live up to the rhyme? We found out.
Traditional food trucks are grassroots arrangements — a retiree, a pot of chili and a steam tray of hot dogs. Go Burger's parent is a hospitality company known to non-New Yorkers as the BLT Steak chain. But does corporate backing mean a better truck burger is at hand? Let's find out.
On July 18th, 1936, the original Oscar Mayer Wienermobile first hit the road to spread its mission of wiener domination. Today, 75 years later, the phallic meat-mobile is here in New York City to restore pride to a similar-sounding name sullied by salacious sexting.
Even if it's a Carl's Jr. Footlong Cheeseburger, "remember, if it's wider than your steering wheel, you shouldn't eat it in one sitting." [Hooniverse]