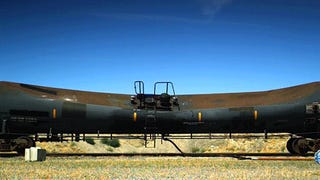 The tanker in the video is 67-feet long with a 10-foot diameter and can hold up to 30,000 gallons of liquid. It's made of thick steel and weighs 67,000 pounds and yet it can be crushed with just the sweet simple science of air pressure. Watch as the gang at Mythbusters made the giant tanker implode in glorious slow…
First, let me just make this clear: I like steel in cars. I can weld steel very very poorly, and I can't even begin to work with aluminum. So that's a plus. But, aluminum is great for cars, and aluminum is more abundant than iron in the Earth's crust. But FutureSteelVehicle wouldn't agree.
As fears rise in Japan about nuclear disaster at the Fukushima plant, the first and best line of defense are the reactor's six inch thick steel-walled chambers, made by a company that still forges samurai swords by hand.