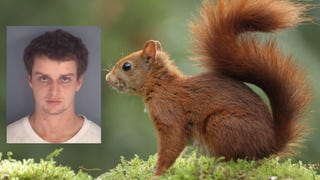 Get your saw ready, Bugs, it's time to start hackin'. One of Florida's sons has run afoul of the law again, this time for drunk driving with a squirrel in his shirt.
Steve Millen is crazy and, in case you didn't already know that, here's more proof. It's Millen and his Stillen R35 GT-R racing acrobatic chopper pilot Leigh Hopper's Eurocopter "Squirrel" at the Targa New Zealand. Who will win? More importantly, has Top Gear already taken all the really good car stunts?
It was like a scene out of "The Great Escape" this weekend at the BMW Car Club of America's driving school. The driver of a Z4 M sports car felt his car behaving "squirrely" on the track so he pulled into the pits. Popping the hood, he discovered a half-dozen baby squirrels inside his BMW's airbox!