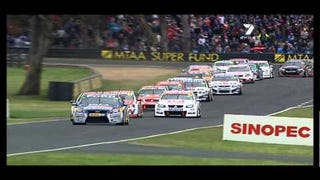 Questionable programming decisions have made Speed the television network equivalent of bacon-flavored tampons. So it's news when they make a great choice like broadcasting the Bathurst 1000 V8 Supercars race on October 8th.
There's been a massive shake-up at SPEED TV's automotive variety program The Car Show with former NBA great and current TV not-so-great John Salley axed from the show, along with 30 minutes of the formerly hour-long program, as Jalopnik exclusively learned. Details below.
In my dreams, I am an eagle, gliding above mountains and plains, diving for the silver flash of a salmon. In my nightmares, Dan Neil dons a hot-dog costume and shouts at me through a bullhorn. Here's a new clip of stuntwork from Adam Carolla's "The Car Show," due to be yanked from the hot wiener water this Wednesday…
The first promo video of The Car Show revealed a set clearly borrowed from Merv Griffin. Jalopnik readers made fun of it and now, as this exclusive photo shows, they've dropped the desk and replaced it with a bowling alley and, wait, wait, is that a sponsor's logo on the wall? I can't quite make it out.…
"Bacon and Reese Cups are a way to a big man's heart." This quintessential quote from a recent episode of Speed TV's "The Racing Chef" sums up everything about this sickening-in-more-ways-than-one NASCAR-centric cooking series. Wherefore art thou Speedvision?
You've read 10 billion bombastic claims on car forums, and it's all been pretty much meaningless… until now. "The Forum Wars" will take those claims and put them on the real-world race track. Check out the tire-smoking, smack-talking trailer!