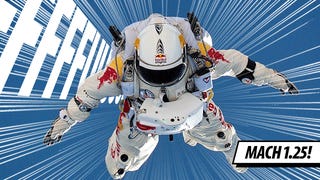 It turns out that supersonic man Felix Baumgartner was even more supersonic than we previously thought. He actually reached 843.6 miles per hour (1,357.6 km/h), which is 1.25 the speed of sound. His heart rate was extremely high at the exact time of the jump—understandably!
While Austrian superbadass Felix Baumgartner was setting new records by jumping out of a capsule more than 20 miles above the surface, everyone out in the Twitterverse did what they do to break the tension: they cracked jokes about the situation, often at the expense of Red Bull, the sponsor of the event and…
Our planet never seems more beautiful than from a distance. Extreme jumper Felix Baumgartner brought back this amazingly distant view — from 71,580 feet above the surface — before jumping out of his space capsule and hurtling home at 365 mph in his quest to hit supersonic speeds without an aircraft.
When Air Force pilot Joe Kittinger jumped out of a ballon gondola from 102,800 feet in August 1960, he set four aerospace records which stand to this day. Red Bull and a mad Austrian skydiver are about to break them. And Kittinger is on board.