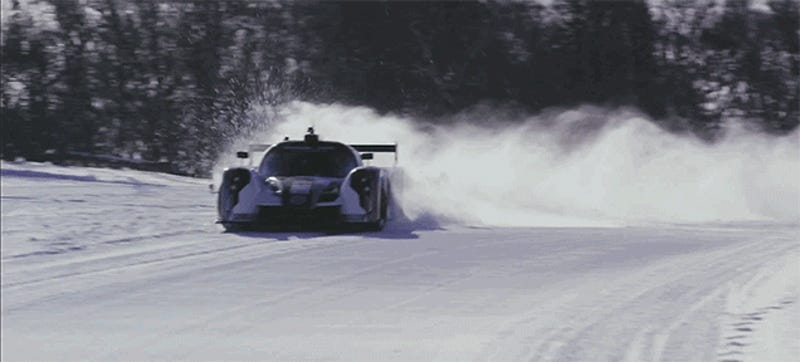 Freestyle skiing champion and occasional Audi/Red Bull/Betsafe billboard Jon Olsson jumped into his 600+ horsepower Rebellion R2K for a ride up a ski slope. Another busy day at the office.
Here's the scene. A few snowmobilers out enjoying a weekend trip on the side of a mountain. One rider falls. Another rider drives above him and triggers an avalanche, quickly consuming the man. And then the rescue begins. Movie? No, real life — and it's one of the most heart-stopping videos I've ever seen.
Vendors at SEMA appear to have a strong yen for tracked vehicles, which might explain this "Snowmobile" from Canadian company TCZL that looks like an a/c unit with tracks, a seat, and bike handles.
People complain about the Woodward Dream Cruise and its traffic, crowds, noise, litter and general chaos. But the worst part? Being trapped in traffic with no chance to run something awesome down, ike this snowmobile converted into a trike.
Why wouldn't you build a blown Hemi V8-powered slingshot dragster to run on the snow? Oh, right, illusions of self preservation. A problem this maniac-machine's builder, Ky Michaelson, didn't seem to have. [The Rocketman]
The RTX SE is to Yamaha what the F-150 SVT Raptor is to Ford: a civilian version of its top-of-the-line off-road racer. Although in this case that racing is Snocross.
Just when we think English Russia has exhausted its supply of automotive awesomeness, they come up with something like this: A 1959 Sever-2 snowmobile, based on the Pobeda car. Oh yeah, and it's powered by an Al-14 radial aircraft engine! [English Russia}